The 70 20 10 model sits at the heart of all good L&D strategy, and it dictates that:
70% of our learning will occur through everyday work tasks and challenges and practice; 20% of our learning comes from others via coaching, mentoring, collaboration, team work and exploiting personal networks;  and just 10% of learning comes through structured courses and programs.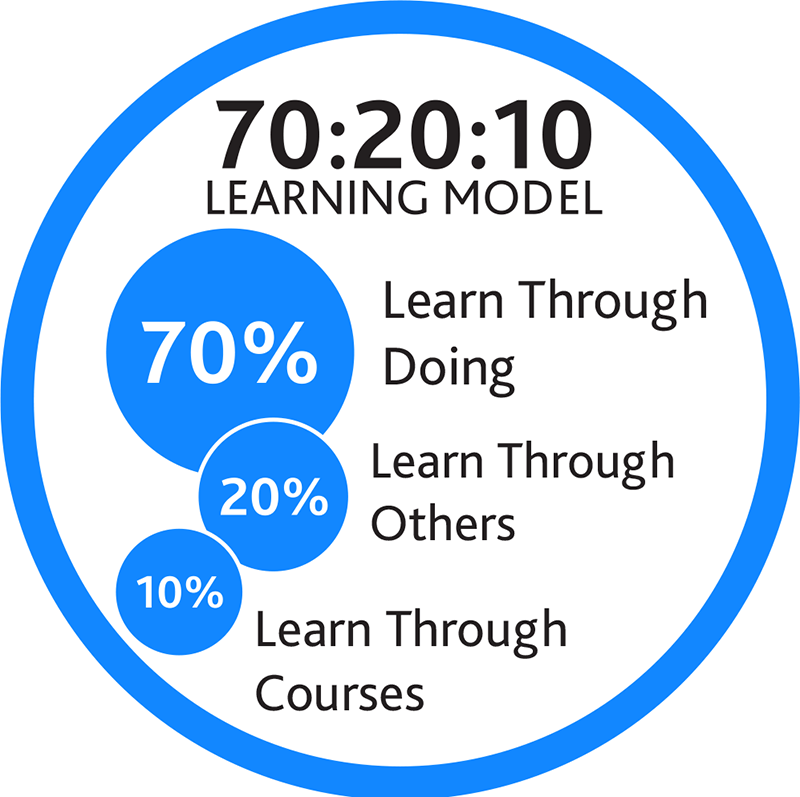 So, how can microlearning, the new kid of the block, be used as part of your 70: 20: 10 strategy?
Quite easily actually, and due to the more flexible and technology centred nature of microlearning it can potentially play a larger role in L&D than traditional classroom training.
With it's bite-size learning format, consisting of 5 minute, topical training modules that can be accessed on demand, microlearning can easily contribute to the structured 10% part of learning.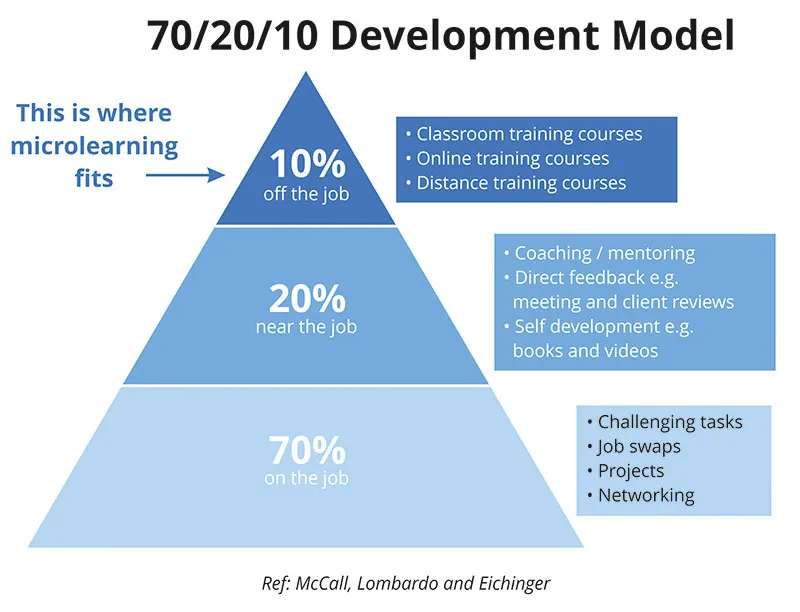 However, it has a broader application in that it can actually enhance on the job learning in a way that traditional class-room training can't.
Because if you are in the class-room you can't be doing the job too, but microlearning is flexible and can be easily integrated with your day to day work on an ongoing basis.
If you are preparing for your presentation in 2 hours and struggling with your nerves you can potentially access a short 3 minute microlearning session on dealing with fear of public speaking – and apply your learning immediately to a real-life situation.
The learning will be relevant, timely and at the front of your mind.
Microlearning can be fully integrated with the 70% of everyday learning.
Microlearning can also extend it's reach into the 20 of the 70:20:10 model by facilitating the process of social learning.
For example, social learning is all well and good, but it potentially favours extroverts and/or the socially skilled.
Microlearning courses based around: networking skills, working well in a team, and receiving negative feedback etc… are examples of timely, relevant and bite-size training interventions that can oil the wheels and advance social learning within your organisation.

Sean is the CEO of Skillshub. He's a published author and has been featured on CNN, BBC and ITV as a leading authority in the learning and development industry. Sean is responsible for the vision and strategy at Skillshub, helping to ensure innovation within the company.