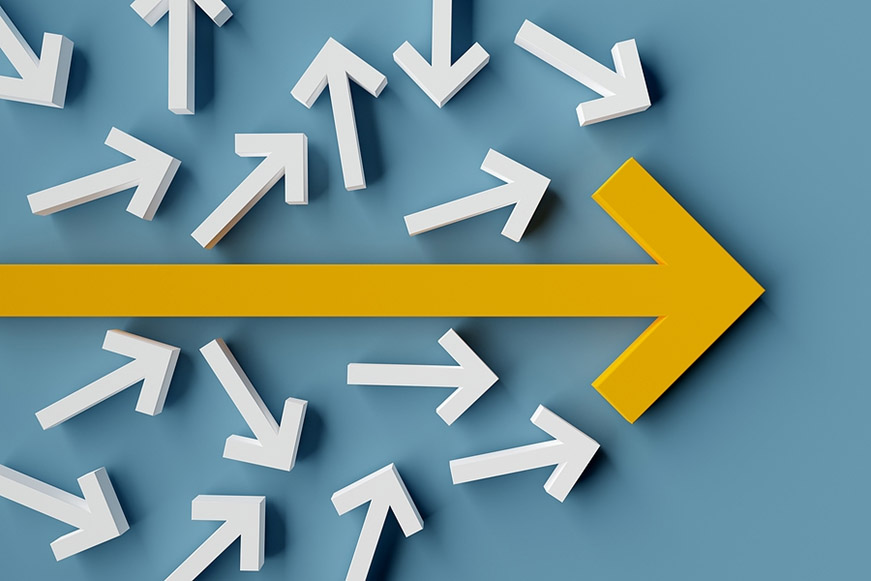 If you are tasked with building a learning and development strategy framework from scratch, or reviewing your current one to optimise, industry benchmarking is a great way to generate ideas, observe best practices and to avoid making silly mistakes.
What is Industry Benchmarking?
Industry benchmarking is an exercise that measures key practices and metrics within your business and compares them with your competitors. Doing this can highlight room for improvement and encourage positive changes. Looking at your internal performance investigates beyond your office or workspace, and looks at the entire picture. From this, you can develop ideas alongside effective learning and development plans.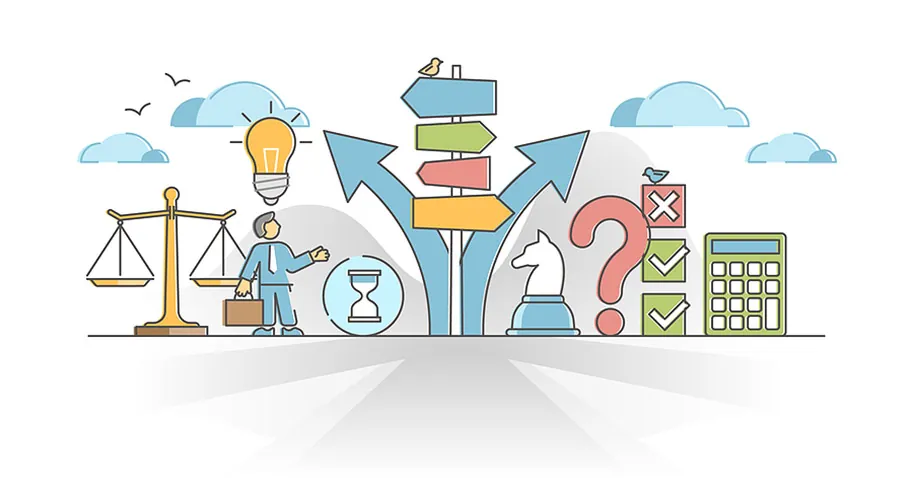 Learning and Development Strategy Frameworks
What is a Learning and Development Strategy?
First, let's start by defining what it is not. Your learning and development strategy framework does not include the mandatory training that all organisations are required by law to engage in – health and safety, fire training, DEI programmes, et cetera.
While these employee training programmes are necessary and useful, they fulfil largely the same purpose across all participating businesses and organisations – they keep employees safe and protect employers from potential liabilities and litigation.
By contrast, a well-designed Learning and Development Strategy Framework is a system for upskilling workers to remain competitive, promote organizational culture and further the business's strategic goals.
It's a written plan which sets out the purpose of training, who will be eligible, the precise types of training available and how these programmes will align with corporate strategy. The Strategy will be unique to the organisation; it cannot simply be bought in "off the shelf".
Different sectors, industries, companies, and brands will require differently focused Learning and Development Strategies. For instance, a public sector organisation or NGO may have a very different approach to a city FinTech firm.
The L&D Strategy will be a dynamic document which needs to be regularly assessed and revised, particularly in the face of rapidly changing technologies, and changes to the way people work occasioned by the COVID-19 pandemic and other trends.
5 Effective L&D Strategy Examples
This is a 5-year plan which sets out the University's plans, ambitions, and commitments to all staff throughout the university.
The strategy explains how the University plans to work with staff, managers, and other stakeholders to help everyone reach their potential.
Key strategic objectives are to 'Strategically align individual performance and development planning', and 'Build Leadership Capacity and ensure capability development'.
This strategy and policy document sets out how the learning and development plan will be mapped out between 2021-2023.
The objectives of this strategic plan are to "To provide a route map to enable local government to develop its most valuable resource in a changing environment and ensure the ongoing provision of excellent services which are responsive to the needs of local communities." Learning Organizations, Leadership and Performance Culture account for 3 of the 6 strategic pillars of this plan.
This strategy document sets out how L&D will support the Police's 2025 vision of having a police force that will have the right skills, powers, and experience to meet its challenging environment.
This ambitious 5-year plan includes achieving innovative goals such as: comprehensive elearning solutions, blended learning, the use of the internet to maximise learning, a world wide web profile of the L&D offer, a high-quality leadership development programme, and development of in-house peer support training and development.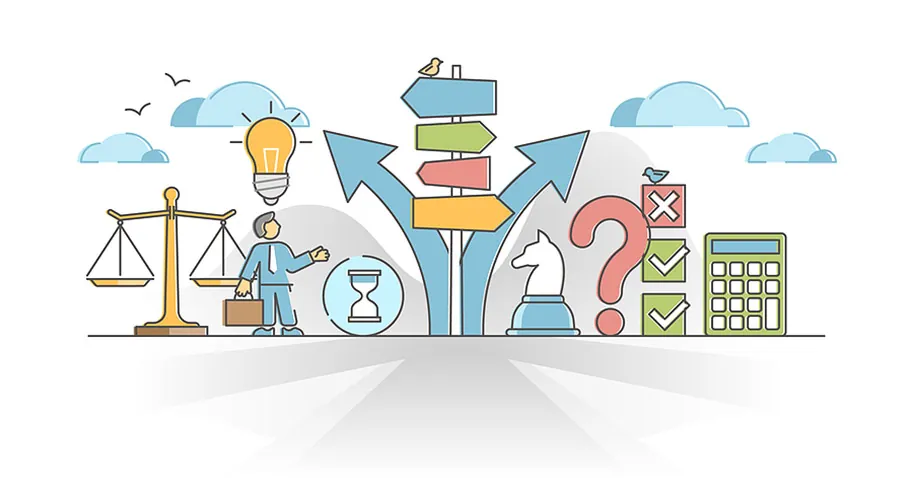 Why develop a Learning and Development Strategy Framework?
There are many advantages to putting considerable effort into your L&D strategy. These can be divided into benefits for the organisation, and for its employees, although there is often considerable overlap.
EMPLOYER BENEFITS:
Increased Competitiveness. When employees learn new skills they can more easily keep on top of trends and developments which lends an organisation a competitive edge. When mobile apps became a significant platform for sales, for instance, companies with in-house app development skills automatically had a competitive edge.
Employee Retention. While employers might worry that employees could take their new skills elsewhere, the reality is that staff love learning new skills and feel loyal to employers providing such opportunities. Upskilling increases employee satisfaction and engagement.
Change Management. When a company has to pivot or change, it's vital to give employees the tools to manage this change as painlessly as possible. An agile company with a good L&D Strategy tends to be quicker and better at managing change overall.
Strategic Alignment. Organisations need the right blend of skills to pursue ambitious strategic goals. Keeping technologies up to date requires such upskilling, and the end product is an organisation where all departments are pushing towards a common goal.
Increased Productivity. Although you will have to schedule time for learning, the end product should be efficiency savings, particularly where new technologies are involved. These savings will allow more tasks to be completed in a shorter time, with fewer errors, improving productivity.
EMPLOYEE BENEFITS:
Increased Engagement. When employers invest in their staff, it promotes a feeling of satisfaction. People generally like learning new skills (when they can see a strong benefit to doing so) and feel they are being developed by their employers.
Improved Cooperation. When a knowledge-sharing culture is promoted within an organisation, it increases cohesion and unity, since there are far more opportunities for collaboration and a requirement for communication across teams and departments. This boosts morale.
Employment Potential. Generally, employees don't want to jump ship every couple of years. One of the primary drivers for this is a feeling of not being developed or promoted. Upskilling prolongs an employee's desire to remain within a company, to benefit from new abilities and potentially find promotion in-house as a result, rather than having to look elsewhere.
Role Improvement. When staff aren't struggling to use outmoded systems and methodologies, they are better able to do their jobs. This reduces frustration and makes work more enjoyable.

As you can see, in Learning and Development, benefits for employers are usually also benefits for employees. This should serve to reduce any friction employers might experience when they announce a new L&D Strategy.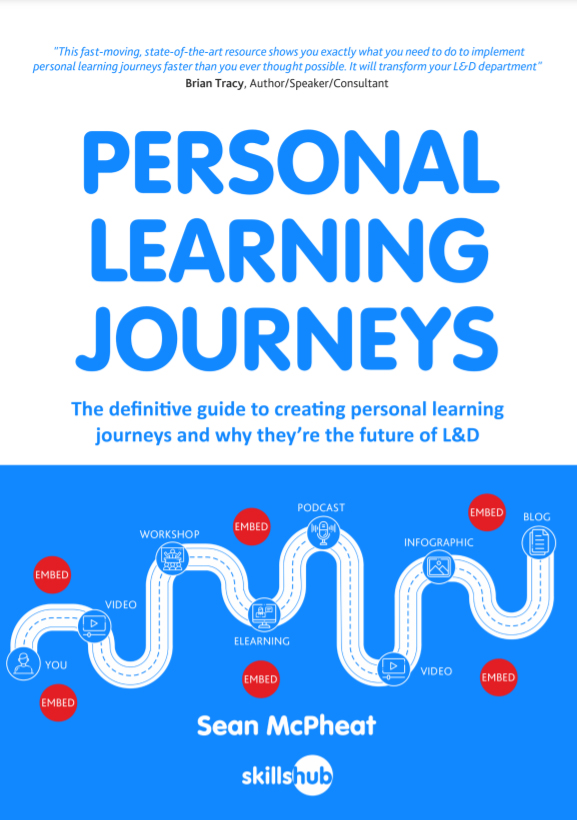 Learn How To Create Personal Learning Journeys

For FREE!
Download a free copy of our latest book
The definitive guide to creating personal learning journeys and why they're the future L&D
Download My Free Copy
Do Employees Want to Engage with a Learning and Development Plan?
There's been quite a bit of research in this area, which makes sense given the time and expense required to create a workable L&D Strategy. The good news is that as the workforce gets younger, the perception of learning new skills being more useful than onerous increases.
Fortunately, younger employees have a more learning-orientated approach to work.
A 2016 Gallup poll of millennial employees found that 87% rated "professional or career growth and development opportunities" as a significant factor when choosing an employer.
The trend continues with Gen-Z. A 2021 LinkedIn poll found 76% considered learning and development as key to their career progression.
However, the adage about teaching old dogs new tricks isn't 100% accurate. Even 69% of Gen X-ers and Baby Boomers report learning and development as important to their employment choices.

What influences a learning and development strategy?
There are two main aspects of an organisation which might shape the specifics of your Learning and Development Strategy. These are the company's strategic direction, and its operational health. To put it crudely, what do you want to implement, and what can you reasonably afford?
Strategic Alignment
Your Learning and Development Strategy Framework must align with your corporate strategy. For instance, if your strategy involved a pivot towards improved social media content, then it would make sense to focus more effort on upskilling marketing and customer service teams accordingly.
If the strategy entailed expanding product lines, then innovation, research and development might become a priority, necessitating a different educational focus.
Where some L&D Strategies might involve the whole organisation, and employees at all levels of seniority, others will be more focused on particular strata or departments. These strategic choices will have a significant impact on both cost and degree of employee engagement. Therefore, it is vital to begin with organisational strategy since it influences so much else downstream.
Larger Strategic Factors Which Might Influence your L&D Strategy:
Trends in the industry in which the business is operating.
Whether the company is in a growth phase.
Whether you are public or private sector.
Whether you are pivoting toward a new business model.
Whether you are implementing climate change-influenced or social justice-driven policies.
Whether you are facing increasing competition.
Whether the company is seizing a self-evident opportunity, such as a marketplace gap.
And many more considerations…
Operational Issues
Capacity is always an issue. Companies can only implement strategies they can afford, and it may be necessary to roll out an L&D Strategy in stages. It may be that you need a five-year L&D Strategy, rather than one you implement across a single financial year.
Before any L&D Strategy can be implemented, an organisation has to create a positive learning environment. Companies need to achieve buy-in from all participants, and there needs to be capacity for learning in terms of time, cost and person-hours available.
More crucially, employees need to know why they are learning new skills – it must be integral to their roles and responsibilities, ideally with the result of making those roles easier to perform. Learning needs to be carefully scheduled, and cover planned for staff who are taken out of their day-to-day responsibilities.
Therefore, it may not be possible to implement an L&D Strategy in a company which has been forced to lay off employees or make other cost savings. In such a scenario, imposing a learning and development plan or regime is likely to foster resentment and reluctance.
Personal career development must feel integral to each staff member who undertakes new training. It must feel like an opportunity to gain new skills, refresh one's resume, and potentially gain a promotion or a raise.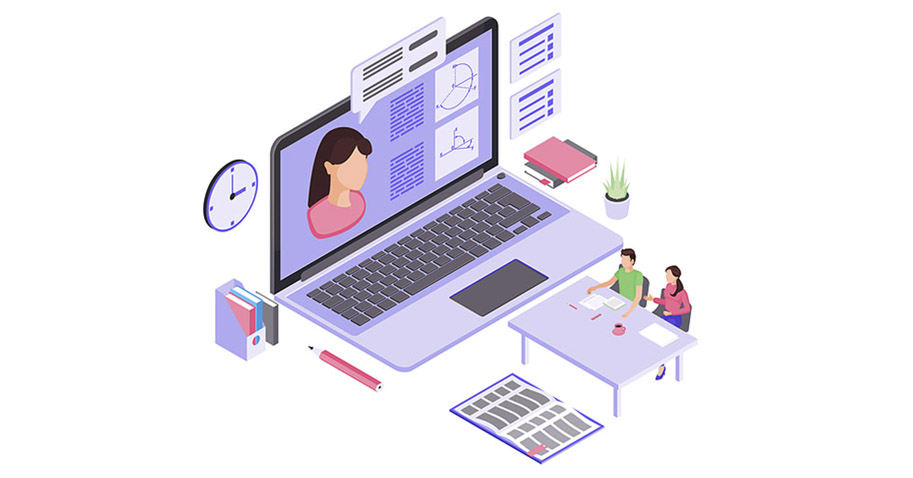 How to Create and Implement an L&D Strategy
Now that we've made the case for implementing such a strategy, how should organisations go about it?
Although, as we've seen, the scale and scope of an L&D Strategy will depend very much upon corporate strategy and capacity, there are some stages which are common across all such implementations.
Here they are broken down into their most basic components:
Assess corporate strategy to derive organisational goals, ideal learning outcomes, scope, and timescale.
Audit existing learning and development functions. Ask whether these are fit for purpose, and which of them might be retained or adapted. Be prepared to scrap existing provisions if revising it will prove too cumbersome.
Consult stakeholder groups both vertically and horizontally throughout the organization. Ideally, an L&D Strategy will be shaped around what departments and managers need, rather than what employees feel it would be "nice to have".
Run a full needs assessment across the organisation.
Identify the gaps between learning and development needs and current provision.
Assess learning and development providers and platforms, taking into consideration the desired mix of in-person and remote learning, as well as how achievement will be assessed. Shortlist providers.
Design a program which will work within the desired timeframe and budget. Build in program performance reviews, and the potential for modification or enlargement, depending on success milestones being met.
Finalise providers and platforms and publish L&D Strategy and operational plan.
Initiate the plan and review at regular intervals.
Measure KPIs, assess success and implement revisions where necessary.

One key question to ask (and it may not be apparent from day one) is whether your L&D Strategy will be time-limited or a rolling program which takes in new cohorts and upskills them each year or quarter.
In time, an organization's learning and development activities might develop into a whole new work strand, albeit one that energises and fuels better performance throughout the company.
It will likely prove a function which incorporates Human Resources, Technology, Communications, Research and Development and Managerial elements.
7 Key Elements of a Learning and Development Strategy Framework
Here are the things which should be defined within your strategy, at a bare minimum (in no particular order)
TIMESCALE
Will your Strategy entail a short, fast sprint to upskill workers in one or two key areas, or do you need a three- or five-year rolling program?
SCOPE
You need to define who will be trained in terms of departments, job roles and seniority. Is the training available to all new starters, or within one or two departments only? Is your strategy designed to upskill managers, their teams, or both?
METHODOLOGY
Will you be running group classes, one-to-one sessions, online programs, or a mix of all of the above?
ASSESSMENT
How will individual learning be assessed and how will the whole strategy be reviewed. What KPIs will you measure?
ACCOUNTABILITY AND OWNERSHIP
Who is leading the L&D Strategy? Who are the key stakeholders? To whom will regular reports be made?
IN-HOUSE OR EXTERNAL PROVIDER
Who will be delivering the training? Do you need to follow a competitive tendering process, or simply select a provider? Can you deliver the program in-house?
SUBJECTS AND SYSTEMS
What subjects are your employees learning, and how does this learning align with corporate strategy? If your training is primarily for new systems and technology, how future-proof is it?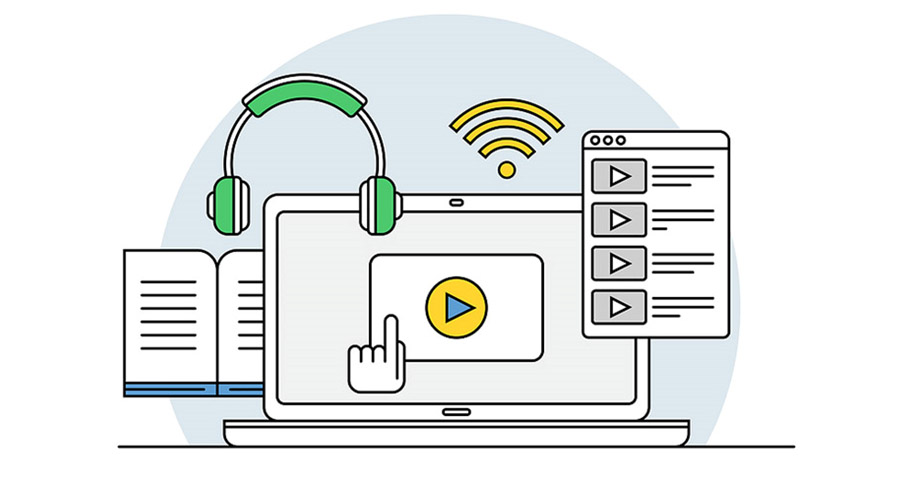 The Importance of Online Platforms to Learning and Development
If 2020-2022's COVID-19 pandemic has taught organisations anything, it's the importance of adopting a hybrid approach to employee presence. It's no longer appropriate to insist that all staff put in regular in-person office hours. Nor, it transpires, is this wise in terms of employee productivity.
A recent Accenture report showed that an incredible 83% (of over 9300 workers surveyed) prefer a hybrid model with at least 25% remote working. There is an increasing demand for online learning strategies. According to a recent Fosway study of L&D professionals entitled "How is COVID-19 Changing Learning?" 71% of respondents reported an increasing demand for e-learning solutions, with two-thirds saying they had made significant changes to how they work.
This demand produces undoubted challenges for employers instituting a learning and development strategy. How can companies ensure their employees train successfully when there's no physical oversight? How do you ensure engagement and measure effectiveness when someone is learning remotely?
So online learning platforms and learning management systems are becoming a must.
How Might a Remote or Hybrid Learning and Development Model Work?
Fortunately, there are platforms designed for remote learning and virtual training with testing, benchmarking and measurable KPIs. By mixing remote learning with appropriate in-person training opportunities, organisations can deliver their L&D Strategies in a safe and efficient manner that employees enjoy creating an engaging learning journey.
Here are some of the new strategies which have been developed in recent years for hybrid or distance-learning method
Virtual Seminars
There has been a huge growth in live virtual seminars in which a guest speaker is interviewed by a host, or gives a presentation, then takes questions from the "floor". Sometimes these incorporate slide decks as well. Questions can be fielded live or submitted during the course of these presentations via live chat features. The increasing popularity of podcasting has driven this development.
Video Courses
These are usually presented as carefully written, edited, and designed short videos which deliver key learning points visually with powerful narratives. They tend to be between 2 to 10 minutes in duration and presented in themed series. Such videos usually have a recap at the end which bullet point key takeaways.
This model mimics the hugely popular recreational learning platforms like Skillshare and Masterclass but builds upon the age-old "training films" of yesteryear, albeit in a bite-sized, slicker format.
Quiz-Based Learning Platforms
On both desktop systems and mobile apps, such platforms incorporate regular short quizzes, sometimes with a block on moving on until participants achieve a "pass" score. They may incorporate written, photographic, audio or video elearning courses, as well as buttons which must be clicked to reveal new chunks of content.
This gamification of learning can prove popular, whilst providing valuable data directly to the training provider about how well learners perform on quizzes, which in turn helps inform the clarity and shape of future content. The more interactive an online platform is, the more data it derives from its subjects and the more KPIs can be measured on content performance.
Textbooks, Playbooks, Workbooks and Written Essays
Of course, the oldest form of remote learning is the book. In a sense, all Universities rely on students' ability to absorb knowledge from set texts, while evidencing their learning in essays.
Workbooks make this process feel less onerous by breaking down subjects into bite-sized pieces. Playbooks concentrate on ways of working into set actions which must be performed in set circumstances.
In-Person Learning Remains Important
All of these methods for remote learning are improved with periodic in-person sessions, whether in a lecture, tutorial, team-working or other formats.
Aside from the subtleties of non-verbal communication which can only be conveyed in person, networking and experience-sharing opportunities cannot be underestimated. People like being in rooms with other people, particularly when so much of our working and social lives are moving online.
Perhaps a hybrid model is best, leveraging the advantages of online and in-person learning. Striking the right balance in terms of modalities is an important aspect of a well-designed Learning and Development Strategy.
The Takeaway
For L&D Strategies to be successful, they must be properly and thoughtfully implemented, since it is likely they will engage departments and employees across the whole company.
However, while Learning and Development Strategies are costly and time-consuming to implement, they remain a great way to align daily activities with corporate strategy, retain employees and ensure an organisation remains competitive.

Sean is the CEO of Skillshub. He's a published author and has been featured on CNN, BBC and ITV as a leading authority in the learning and development industry. Sean is responsible for the vision and strategy at Skillshub, helping to ensure innovation within the company.
---