Talent management is more than just a pretty word, it's a corporate imperative.
Companies who excel at talent management processes will create a highly engaged workforce with a genuine and significant competitive edge.
Aon Hewitt found that excellent talent management strongly correlated to incremental shareholder returns.
Not only do top-quartile engagement levels lead to higher than average shareholder returns, (in terms of sales and margins), best employer status leads to 57% higher returns.
These headlines statistics are compelling, but for formal talent management to work and to realise it's full potential, it must be a holistic and integrated process.
Piecemeal talent management processes will begin to cannibalise themselves.
For example, why spend thousands of pounds hiring top sales talent only to put them into a poorly developed talent management process which demotivates those stars, and ultimately drives them away?
As well as having world class hiring practices, you need to make sure you have a world-class talent management process too, that motivates, engages and retains top talent and which doesn't actively disengage them.
This is  integrated talent management.
So, where does it start? Attraction, Engagement or Retention.
They are or course independent and interlinked, and ideally it would be full steam ahead in all areas.
But the reality is that most organisations won't be able to access all areas at the same time and prioritisation will be needed.
That's why a SWOT analysis forms the basis of any good talent management strategy as it enables you to identify your biggest weaknesses and prioritise areas for development.
We live in a VUCA (volatile, uncertain, complex and ambiguous), and, as a result, it may be necessary to adopt a more heavyweight environmental analytical tool like the PESTLE analysis (Political, Economic, Sociological, Technological, Legal, and Environmental), to ensure your talent management strategy is both adaptable and resilient.
This will provide much needed robustness to the external opportunities and threats section of your talent management SWOT analysis.
You can also beef up the weaknesses section of your SWOT analysis by referencing the analytical model known as the Griener Curve.
This curve plots the growth stages that every organisation goes through as it matures, and it forecasts the likely internal challenges/weaknesses that will hamstring your organisation at each of the 5 crisis stages of growth.
With a robust SWOT analysis in place that illustrates the big picture and external environment, you can develop an effective talent management strategy with key goals and priorities.
Attraction
In this increasingly image conscious world, employer branding now sits at the heart of the any good talent management strategy.
Millennials, who are now the largest generational group in the work-place, are less salary driven when it comes to choosing an employee than previous generations.
Research from Global Tolerance suggests that over half of this cohort believe that 'meaningful work that helped others was more important than a high salary and that they would work harder if they were making a difference to others.
Of course, it's not just about pleasing millennials, your employer brand should reflect the values of society at large (or at least the candidate market), if your talent management process is to be effective in attracting talent, particularly, but also in engaging and retaining talent.
Research from Glassdoor shows that around 2 thirds of candidates are impacted by brand when applying for jobs, and culture, work environment and conditions are vital brand components.
Good talent management in the area of employer branding demands that you build an employer offering that is at least as good as, if not better, than your competitors or you will struggle to compete for talent.
Talent management processes must be developed alongside external competitor benchmarks.
With a strong and attractive employer brand being at the centre of your talent management process you'll find it easier to attract talent.
You will also have a reduced time-to-hire and cost-to-hire, and should also increase your quality of hire as you'll have more candidates to choose from.
Retention
Staff turnover is not inherently a bad thing.
Departures create vacancies that create advancement opportunities for internal staff and which create opportunities to freshen up the organisation with outside talent.
But of course excessively high turnover can begin to reduce your competitiveness by: putting too much strain on hiring processes,  increasing empty desks and lowering output and causing mission critical projects to stall.
Talent management processes need to work to keep retention within an acceptable tolerance window, a sweet spot for organisational effectiveness.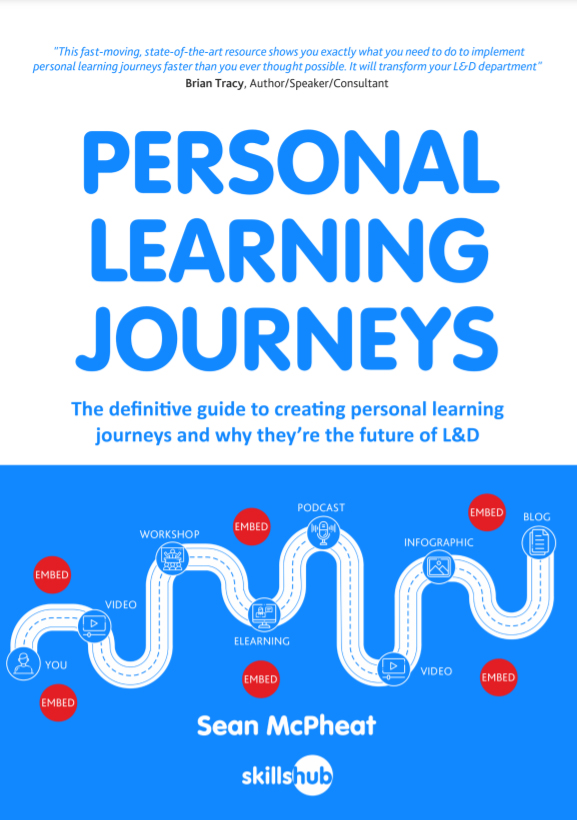 Learn How To Create Personal Learning Journeys

For FREE!
Download a free copy of our latest book
The definitive guide to creating personal learning journeys and why they're the future L&D
Download My Free Copy
This brilliant Unfolding Model of Turnover by Mitchell and Lee shows the 5 pathways through which people leave organisations and gives some excellent clues on how to develop a talent management process that manages staff turnover risk effectively.
It shows that the decision to leave often comes from a shock event, (such as being overlooked for a promotion, or having a lower than expected pay rises and) or it can come from an accumulation of small disappointments over a period of time.
Either way, most people do tend to find a job before leaving meaning there is time for an organisation to intervene to retain the employee if so desired.
This makes the case for responsive talent management processes that focus on continuous engagement with staff via quarterly or even monthly performance/progress reviews, enabling an organisation to carefully manage it's flight-risks.
That's why social technologies are emerging which poll employees automatically on a continuous basis about how they are feeling about the company and their job.
These systems can give real-time feedback on red flags relating to individuals, specific teams or the organisational as a whole.
These new real-time engagement technologies present an opportunity for organisations to truly innovate in the area of employee engagement.
A talent management process that frequently checks the pulse of employees can help to keep employees in the motivational sweet-spot where by they love Monday mornings, give their best each day,  and regularly go the extra mile.
Maximising employee engagement is about showing maximum responsiveness to an employee's reasonable needs. That's why our online learning platform can create personalised learning journeys. You don't just want to sheep dip your talent. Instead you want to nurture them and develop them to be the very best that they can be.
If people truly are your most important asset then they must be looked after, just like any other vital asset in the business.
By using a responsive talent management process you can create a stable pool of high performance talent that can give you a sustained competitive edge in the marketplace and incremental shareholder returns.
Thanks again

Sean McPheat | 

CEO
---