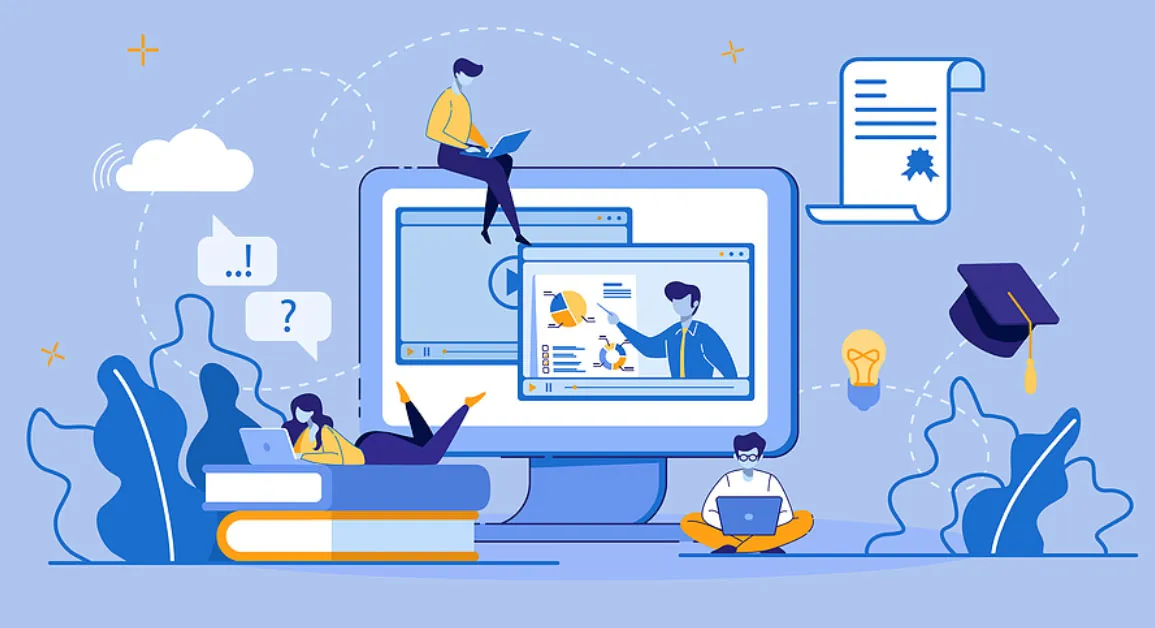 Considering how much technology has advanced over the past decade, it makes sense that the way people learn has advanced alongside this.
Before the worldwide COVID-19 outbreak, technology had already changed the learning landscape tremendously. For example, state and private schools nationwide have incorporated tools like tablets and laptops into their daily lessons.
During the height of the pandemic, we saw a dramatic shift in how we operate as a society. Everything changed, from socialising and leisure activities to business, work-life balance, and professional development avenues.
The digitalisation of education is a natural step forward, particularly when it comes to employee training and development.
This guide explains what digital learning is, its evolution, its benefits, and how business owners and other professionals can utilise digital learning platforms in their training and continuing education protocols.
What is 'Digital Learning'?
Simply put, digital learning refers to any type of learning facilitated by technology. Digital learning involves the following:
• Technology: Tools like desktop computers, laptops, tablets, smartphones, etc.
• Content: Interactive and adaptive software, digital learning platforms, video lectures, games, etc.
• Instruction: Personalised assistance from teachers, team leaders, or subject matter experts (SMEs) through video conferencing, chat, etc.
It's important to note that the terms "digital learning" and "online learning" are synonymous.
What's the Difference Between eLearning and Digital Learning?
eLearning refers to courses taken entirely online. These courses may be customised or purchased as "off the shelf" content.
Digital learning involves a more in-depth experience. It includes eLearning materials (bespoke content or off-the-shelf), but it may also include face-to-face learning through video conferencing or digital collaboration with other learners.
eLearning has existed since the 1990s and early 2000s. In the wake of the COVID-19 pandemic, though, it's become much more popular.
Digital learning has also grown in popularity, especially among employers, because it offers a more engaging, customised learning and development experience.
What are the Benefits of Digital Learning?
The rise of digital learning and digital learning platforms in the workplace serves both employers and employees.
The following are some specific benefits you and your team will experience:
Boosts Employee Engagement
With a digital training platform, you can boost employee engagement and motivate them to pursue learning and development opportunities.
Whether they work in customer service or HR, most employees these days aren't interested in reading a manual and taking a written test.
They prefer fast-paced, highly engaging digital learning solutions.
Shortens Learning Times
Digital learning allows employees to work at their own pace, but it's still more efficient than traditional learning options. Online learning cuts out many time-wasters, including travel time, time for breaks, and time to start and wrap up lessons.
Increases Employee Retention
Employees care about career growth and development. If you show them that you care by offering digital training options, they'll be more likely to stick with you instead of looking for a new job elsewhere.
Provides Ongoing Access to Resources
A digital training platform doesn't just centralise learning resources. It also provides ongoing access to those materials after the course ends.
Ongoing access provides employees with a convenient collection of resources. They can reference this information whenever they have questions or need a refresher.
Offers Easy Scalability
Digital learning is highly scalable. Whether you have a team of five or a team of 50, you can use online resources to help them achieve their learning and development goals.
Provides Timely Feedback
Many digital training platforms offer near-instant feedback for learners, managers, and employers.
This information allows leaders to make data-driven decisions. It also gives employees insight into what they've mastered and what they need to focus on improving.
Standardised Learning and Development
Digital learning platforms create a more standardised learning and development protocol for your employees. More standardisation ensures that everyone gets the same information and is on the same page regarding training and continuing education.
Why are DigitalLearning Platforms Important?
Online learning platforms, or digital learning platforms, provide a centralised location for instructors and learners to access digital training materials. They democratise the learning process and give everyone the tools they need to develop existing skills or gain new ones.
The rise of digital learning platforms offers several other noteworthy advantages to employers and employees, including:
Increased Flexibility
A digital learning platform provides greater flexibility for busy employees. It doesn't matter if they work on-site or from home, as they can use a digital learning platform to stay consistent with their training.
Digital learning platforms also allow employees to learn at their own pace. As they have all the information they need in one location, they can go through training modules as quickly or slowly as they want.
Increased Accessibility
Digital training platforms also democratise learning by making training materials more accessible.
Employees can access course materials on their computers, tablets, and smartphones with the right learning platform. This easy access lets them learn anytime and anywhere.
Diverse Learning Materials
Your employees don't all learn the same way. Digital learning platforms consider this fact by providing diverse collections of learning materials.
From written guides to videos to games, you can use digital training platforms to streamline new employee training, help your current employees develop new skills, and more.
Customised Learning Experience
With a digital training platform, employees get custom learning materials instead of one-size-fits-all plans.
A bespoke learning platform teaches them the specific skills they need to level up their careers and factors in your company's mission, values, and goals.
Cost-Effective
Online learning platforms are often more cost-effective than other training programs.
You don't have to pay someone to offer training to your company. You also don't have to pay for your employees to attend outside learning events, nor do they have to worry about paying out of pocket.
How can I Utilise Digital Learning Platforms?
Business owners can utilise digital learning by investing in a digital learning platform for their employees. Digital learning platforms (particularly those designed by learning and development professionals) allow employers to create customised learning content and then conveniently distribute it to their employees.
Business owners and employers can also give employees access to pre-made eLearning courses on relevant topics like sales effectiveness, health and safety, or equity and diversity. This option allows team members to start learning and upskilling right away.
In addition, businesses can also allow their employees to take an active role in utilising digital training resources.
Employees can start by researching training opportunities that will help them develop new skills, fulfill their responsibilities, and better serve the company's customers or clients. They can then consult their employer about investing in these online courses and development programs.
Choosing the Best Digital Learning Platforms for Your Business
To choose the best digital training platform for your employees, compare several resources and look for one that allows you and your team to do the following:
• Upload various content types (videos, graphics, docs, SCORM, etc.)
• Create personalised learning journeys
• Easily access information with intuitive navigation pathways
• Create detailed, dynamic reports for the company, teams, and individuals
• Easily upload content and add users
• Access material from various device types
• Quickly deploy eLearning sessions and virtual training
• Set up training based on your timescales and deadlines
• Scale up or down based on the number of users at your company
• Access content in multiple languages
• Quickly access customer support professionals as needed
• Easily migrate from your existing learning management system
The best digital learning platforms check all of these boxes.
A tool that meets these requirements will create a more inclusive, flexible, and effective online learning environment for your employees, whether they work in the office or remotely.
Is Digital Learning a Trend?
Digital learning is trending, but it's more than just a passing trend. The world has changed dramatically in the last few years, especially when it comes to how people learn and develop new skills, and it's not showing any signs of stopping.
Currently, 90 percent of companies offer some kind of digital learning, and by 2025, the global eLearning market is predicted to reach a $350 billion valuation.
With data like this in mind, it's safe to say that the businesses that adopt digital training platforms and eLearning materials will have a significant advantage over those that resist the call to transition into the world of online learning.
Are Digital Learning Platforms Right for Your Team?
If you're not already using a digital training platform or a digital eLearning platform for your employees, you're missing out on many impressive benefits.
Start using a digital training platform today to assist your employees in their learning and development efforts and create a more dynamic, motivating work environment.
Want a platform that checks all the boxes discussed in this guide? Skillshub provides a bespoke, user-friendly training platform designed with your online learning goals in mind.
Want to learn more? Get a free quote today.
---