Gamification is the process of using game play mechanics in the work-place to motivate staff to achieve specific objectives.
By giving badges and rewards for completing certain tasks and/or creating league tables that publicly showcase high performers you can motivate staff to perform.
Many of you may be eager to try out gamification in the workplace, but it's not immediately obvious where to start.
To help give you some inspiration and direction for your own gamification initiative here's 7 of the best corporate gamification initiatives that could have some application in your business.
1. Nike + and the Running Project Community Experience
Nike + is an app that tracks the running activities of it's users and displays their latest achievements and overall progress.
The app allows users to compare and compete with chosen friends/colleagues or complete strangers via social media.
This could be a great addition to a corporate wellness programme.
2. Zombie's Run
Gamification doesn't have to be about competing with other humans, you can actually compete with virtual characters.
Zombie's Run is a running motivation gamification app where you do just this in a post-apocalyptic world.
When you are out running you will suddenly get a message in your ear saying you need to sprint to outrun a zombie, get some supplies etc.…
This game has been designed by the US Army and is now their number 1 recruitment tool.
It's a multi-player,  tactical, first-person shooter game.
The game puts the players in a range of military combat scenarios around the world that test their ability to be a good soldier, making it a great candidate assessment and recruitment tool.
Simulation games like this which mimic what it's really like on the job can be great recruitment tools.
4. Game Effective for Salesforce.com
Sales people love signing on the dotted line, taking the money and doing stirring presentations.
But, there are plenty of important but mundane tasks that sales staff hate doing, like updating fields in your beloved CRM sales system.
Rather than badgering sales staff, Verint gamified boring sales admin tasks using quizzes, simulations and blended learning sessions to increase learning and development.
They also developed team competition between different territories which led different country sales team to compete to win the competition every month.
This organisation used Badgeville (a gamification software system)  to gamify knowledge acquisition and learning participation.
For example, they gave students the chance to take the Fundamentals in Programming Course in a gamified format, known as 'Hello World' involving badges, rewards and league tables.
This involved giving them a challenge assignment that they needed to work harder for.
85% of students took the additional assignments which reflected the fact that students were participating more actively and as a result grades were 9 % higher.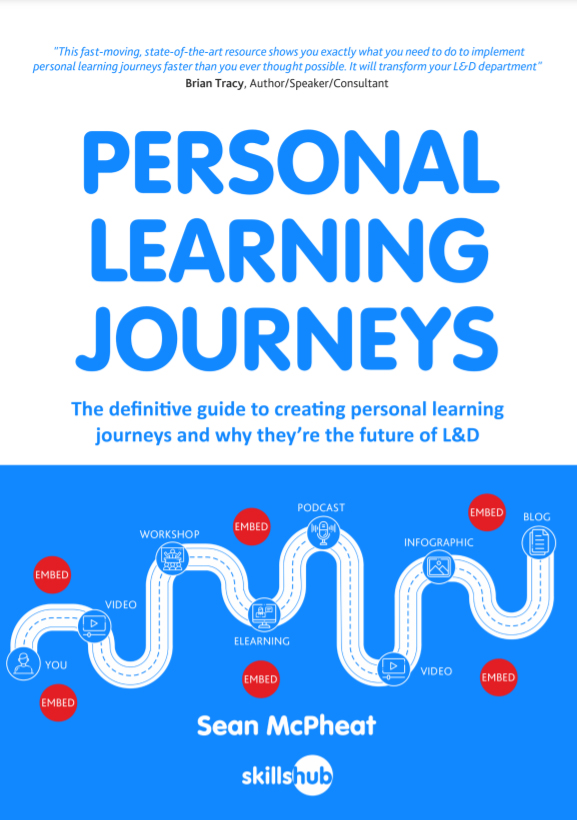 Learn How To Create Personal Learning Journeys

For FREE!
Download a free copy of our latest book
The definitive guide to creating personal learning journeys and why they're the future L&D
Download My Free Copy
6. Dev Hub 
This is a service that enables users to create their own blogs and websites but the service providers were finding that only 10% of users finished building their sites which is a very low conversion rate.
So, they decided to gamify the process by integrating badges (named devatars).
In this gamified version users had to build their own 'online empire', and were given rewards for completing tasks like adding features to their web site skeleton.
Each step of the website build is like completing a mission and you can accrue virtual points as you go, when you do things like add text and photos.
As a result, user completion rates grew from 10% to 80%.
This kind of gamification has great application in the corporate world to encourage engagement with boring tasks like employee self service, reading essential documentation and so on.
7. Tongal
This platforms gamifies the creative process.
Anyone can submit an idea (ideally a good idea),  to the site in 140 characters or less.
The site community made up of creative professionals and brands vote on ideas and the financial sponsor selects ideas from the pool of great ideas and funds the creation of the project.
Incentives are mostly financial.
If your idea gets selected to be made into a video (usually an ad) you make $250 to $1,000 and if the video is selected to be launched the person behind the idea gets a 5% bonus.
Video makers can earn $1,000 to $25,000.
This kind of idea submission and democratic selection process has the potential to foster creativity within any modern workplace.
Do you use gamification?
If not, implementing gamification in the workplace can seem a little daunting at times.
Not only do you need to think of the bespoke elearning elements of the actual content but you also need to think about how you can "gamify" it too. It's a key skill and requires imagination.
The key is to keep it simple and to start small.

Sean is the CEO of Skillshub. He's a published author and has been featured on CNN, BBC and ITV as a leading authority in the learning and development industry. Sean is responsible for the vision and strategy at Skillshub, helping to ensure innovation within the company.
---