According to the Institute for the Future (IFF), in the year 2030 it estimates that 85% of the jobs that today's school kids will be doing have not been invented yet.
Now that seems ridiculous to think of now, but it isn't that far away, and look at what has come out of the last decade, for example:
Google Assist – which is the closest thing yet to general artificial intelligence. This feature speaks, carries out face recognition for both security and in photos.
Amazon Alexa – known as the one geared home hub for automation. Alexa can play music, provide information, work with smart devices and is constantly evolving with new add on widgets.
SpaceX's Reusable Rocket – Following the launch of Falcon 9 in December 2015, SpaceX managed to land the rocket back at Cape Canaveral, saving one quarter of the cost of what it used to be a decade ago, making space more accessible to start-ups.
Its hard to imagine what new inventions will be available in 2030 and beyond, but how can you get your learning capabilities ready for a future generation?
Being taught large amounts of lengthy content is no longer crucial for our workforce.
The personalised learning route allows you to incorporate not just training people to upskill, but more to allow them to focus on being able to find a resource to answer a question correctly when a need for training is apparent. This is going to progress more and more over time with the advancements of technology, so it would be good to start working on the core roots to start offering personalised learning journeys in your organisation now.
So what can a personalised learning journey look like?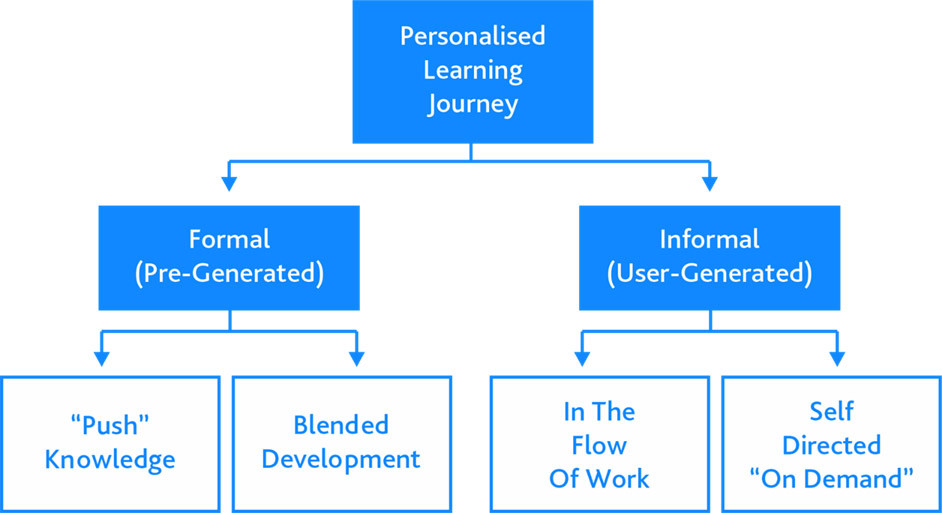 Its easy to think of personalised learning journey as filtering down into two sections, Formal Learning (also known as Pre-Generated) or Informal learning (User Generated).
Formal learning, is where we as a company produce the learning pathway, but still allowing room for personalisation
Informal learning is where the person takes responsibility and credibility for their own learning and development.
Let's take a look at these closer.
Formal Learning
Formal learning can be categorised into two sections, Push Knowledge and Blended Development.
Push knowledge is where I for example have knowledge or a skill that I want to share with you. A great example of this is used by one of our Skillshub LXP clients who gets their senior management team involved with creating short vlogs on a weekly basis. These vlogs work for two reasons, firstly, it allows the team insights to some company information they may not have known about or could be of interest, and secondly the senior managers use this to their advantage to delivery a story of what challenges or objections they may have faced that week. Storytelling through experience is a great way to motivate or inspire a team.
Blended development is where we start to piece together a training programme based on different resources we have available. Here's an example: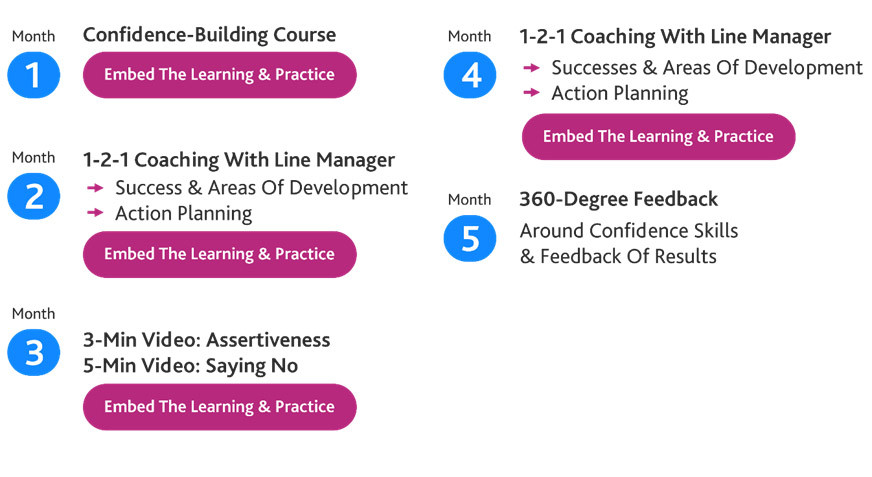 You can see here a five month Confidence Building development plan, month one an individual might attend a face to face open course or it might be delivered via virtual training. This is then followed by some 1-2-1 coaching with a manager in month two. Month three is down to the learner accessing elearning content on their eLearning platform that has been specifically selected by the line manager for them to complete. Month four follows an additional 1-2- coaching session with the manager to review successes and areas of development, allowing an action plan to be put into place. Finally, month five incorporates a 360 degree feedback assessment, allowing for feedback to be provided and assessed.
Informal Learning
Informal learning allows the person to take responsibility and own their own learning experience.
Firstly, you have in the flow of work. This is a resource that works as a digital tap on the shoulder to support anyone who needs an answer to a question or needs to upskill now. It allows the user to go on, find what they need any carry-on working. By providing resources you know that they will not be shifting through pages and pages of Google search wasting time.
Secondly you have on demand learning. This allows the person to take full responsibility for their own learning progression. They can create their own learning journey using a system that fully supports personalised learning, allowing them to schedule content at a time and pace suitable for them. Or alternatively, they can just browse content when they get a spare 20 minutes in the style of Netflix.
Personalised Learning Benefits To You
• Learning is self-paced, you go at a speed that is right for you
• More information retained – you're learning how you want to
• Encourages higher engagement levels and motivation to complete
• Reduces days out of the office on training events
• Better ownership of learning
• More choice of resources available to trainers
• Build up L&D Resources, creating a "go to" portal
If we would look back ten years ago, we never would have imagined Google Assist, Amazon Alexa or SpaceX reusable space rocket, however the way we learn is always going to be personal to each of us, therefore setting the foundations to offer personalised learning now will have you ready to be able to provide resources to upskill people correctly, as and when new skills are required by our future working generation.


Jenny
Jenny Verman – Head of Digital Learning
---