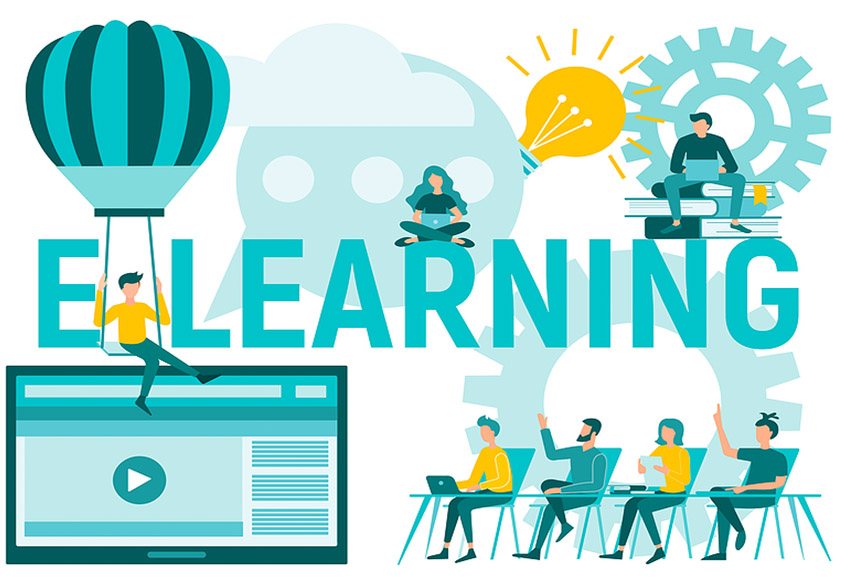 According to stats, the eLearning market may grow to more than $240 billion by the end of 2022. Since its inception, eLearning has experienced rapid growth and acceptance.
Thanks to advanced technology, learning new things on the internet is more convenient than ever. However, it is still a challenge for both learners and teachers to find ways to utilise online resources to benefit them.
Similarly, if you run a business, it is difficult to strike a perfect balance between your content and the objectives of your venture. If you fail to cater to both properly, you may end up creating content that might be wasting your learners' time.
Considering the importance of creating valuable content to ensure successful development and learning, it's valuable to understand the fundamentals of eLearning content development. Gear up as this article will help you do so and share tips to creating engaging content for your learners.
What Do We Mean By eLearning Content Development?
To put it simply, eLearning content development is a procedure that involves creating a course that allows a particular individual to learn about a specific topic. The process curates learning content that helps people learn about things they are interested in or find useful to benefit their overall development.
Most successful businesses around the globe consider investing in LMS's to be a crucial part of their strategy. A LMS, or Learning Management System, works as an online hub with various features that help to support distance and classroom learning activities.
Interestingly, a LMS is also useful to enhance the skill levels of your team members and share the values of your organisation with every individual working for you. Having a LMS helps you to plan and execute an eLearning content development process that can meet your company's learning objectives and simultaneously enhance the job satisfaction of learners.
Imagine you have a Learning Management System in your organisation, and you populate it with relevant and engaging content. In that case, every learner in your organisation or outside of it can have access to tools and training programs that can help them develop their soft and technical skills to benefit your business in the long run.
Why is eLearning Content Development Important?
Here are some other reasons for investing time in eLearning content development.
Generate Consistency Within Your Team
Suppose you run a restaurant and are looking for a way to educate all your team members about the ethics and values of your company. Developing an engaging course that covers the values of your company can prove quite beneficial.
If through that course, your team members are well informed about their dress code and hospitality rules, you won't have to invest time on individual employee training. This is what eLearning content development does. It helps develop consistency among all team learners so that everyone performs every task according to the business's values.
Great for Compliance Training
Most companies also use their custom-built courses to execute compliance training through the eLearning content development process. It isn't easy to conduct training seminars, especially when teaching thousands of learners.
But thankfully, through the development of eLearning content, every employee can easily access relevant courses online and learn new skills on their own. This not only saves management time but is also effective in reducing training costs.
Increases Employee Retention
eLearning is a great way to enhance a learner's engagement with specific topics. Interactive content development can result in many learners valuing their jobs and result in improved job satisfaction. Not only this, but when your employees know that certain content has been specially created for their betterment, they feel valued in return and tend to appreciate the creator and its efforts even more.
Flexible Training Content
One of the best qualities of the eLearning content development process is that it produces entirely flexible content. Most learners appreciate training plans that easily fit their lifestyles, and that's what a LMS strives to achieve. By providing your learners with a flexible training program that they can access whenever they feel like it, you can help to boost their morale.
Can Help to Increase Profits
The eLearning content development process can help you create content for employees, but also external learners all around the world. While money shouldn't be your ultimate goal, it should still be one of your aims to encourage you to produce reliable and valuable content.
It is safe to say that content development should be a crucial part of your organisations' strategy. However, the process of content development isn't the same for everyone. Since all ventures have their unique goals to achieve, it wouldn't be fair to suggest you follow a set structure for the entire content development procedure.
That said, there are a few top tips that work for all kinds of content creation and development goals. So, please keep reading to explore what they are.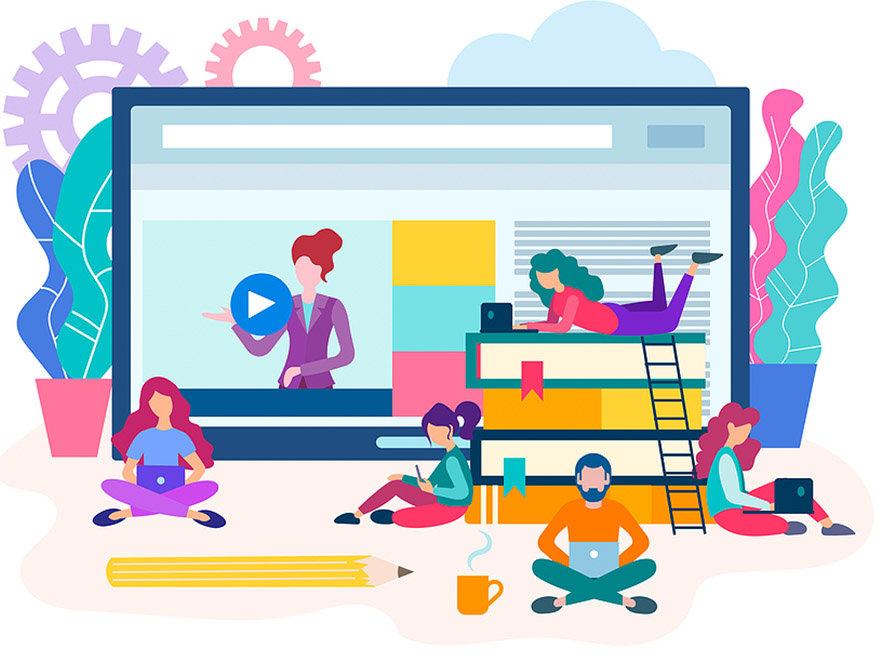 How To Create Engaging eLearning Content
Whether you are creating a course for your team members or general learners, it is imperative to focus on three qualities: convenience, engagement, and usefulness. You should produce both sharp and accessible content so that the maximum number of people can benefit from it.
Below, we have shared a few valuable tips to help your eLearning content development process benefit all your team members and any other learners you plan to offer it to.
Discover Your Learners And The Aim Of Your Content
Before creating content for eLearners, you should spend some time exploring the purpose of your course. If you are not clear yourself, your learners will also not know the aim behind the content.
Your target learners should know why a particular piece of content is helpful for them. Once they know that, they will find it easy to invest their time in engaging with your course.
Similarly, while learning about your audience, you should also evaluate the courses they prefer. For instance, if your content plans to cater to your team members, ask their preference on the visuals and audio they look for in a piece of learning content or presentation. Moreover, if you have a diverse team from different parts of the world, your course must be readily available in various languages.
Be Relevant
If you don't want to lose your learners' attention, following this tip is crucial. A successful eLearning content development process aims to produce relevant content. And that is achieved through micro-learning.
Micro-learning involves gaining knowledge every day in small chunks so that your course covers only updated and relevant information. According to research, it can help improve your knowledge by 17%.
Therefore, this process makes the entire content development procedure pretty convenient and authentic. It also helps reduce the chances of any errors in your content.
In addition, you don't have to be relevant with your written content only. Your videos, animations, and images demand relevancy, too, so that your learners can rate your content as reliable.
Further, in the quest to create relevant content, avoid disclosing all the information you may know. Some facts are more important than others, and it is okay if you don't present the less-essential points in your course. This practice helps create concise content that maintains the attention of its learners.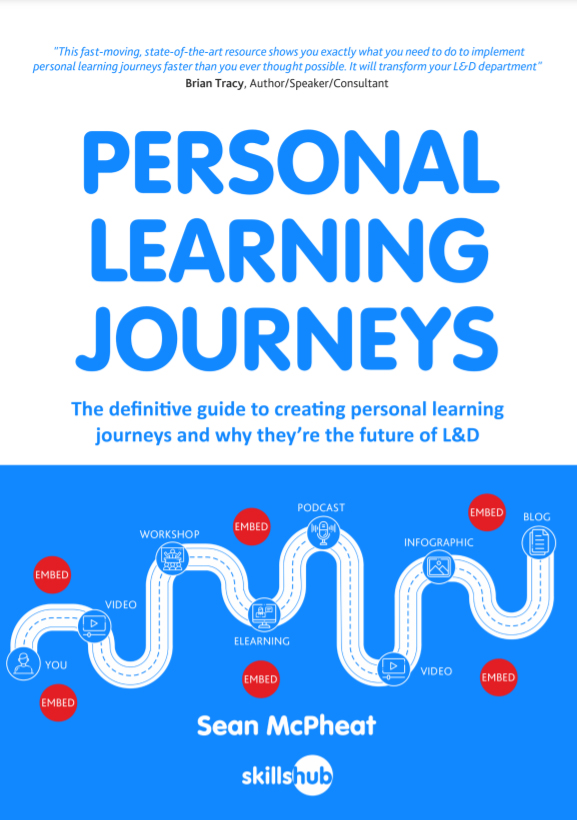 Learn How To Create Personal Learning Journeys

For FREE!
Download a free copy of our latest book
The definitive guide to creating personal learning journeys and why they're the future L&D
Download My Free Copy
Focus on Creating an Intuitive Learning Path
For your content to sound engaging and fun, it should have a proper structure. For example, if your course has similar topics, it should be divided into modules to help learners upgrade their knowledge and skills with time.
Start the learning plan with simple content, and then gradually move to an increased difficulty level to challenge the skills of learners. This structure allows learners to learn new skills at a pace that they can easily manage. Besides, after completing every module, they will gain confidence with time.
If you want to enhance engagement, develop progressive content. Focus more on practice so that the learners can test themselves. For instance, quizzes are an excellent example of practical and competitive content.
Create Diverse Content
An eLearning content development process has its own challenges, and one of these is creating a course that can cater to various learning styles across generations, genders and personalities.
Many learners might take your course, but they may not have similar learning patterns. So, to benefit each of them, you must offer content that everyone can relate to.
For instance, most learners prefer courses with great visuals, while others find audio content engaging. Moreover, some people are kinesthetic learners. If you want to involve all of them in your courses' success, create a balance between your audio, video, and kinesthetic elements.
You can present your topics through graphic and video content. At the same time, offer written notes for all lectures and incorporate activities and group assignments.
Prioritise Quality
Have you ever felt excited to start a course only to find out later that it contains terrible visuals and poor audio quality? Imagine reading a book with various grammatical errors or watching a movie with low-quality camera work. Isn't that unacceptable and demotivating?
The same thing applies when creating and delivering eLearning content. Being creative is essential but at the same time, providing high-quality content is also crucial. Whether you plan to offer your course to your team members or learners worldwide, focus on elements that can help create a complete and satisfying learning experience.
For instance, avoid spelling or grammatical errors in your content. In addition, the voice quality should be clear, and there shouldn't be any background noise. If you can't carry out quality assurance yourself, hire a specialist who can look after these elements on your behalf.
Integrate Mobile Learning
A responsive design for your course can help your learners access content through various devices, including mobiles. Smartphones have become a crucial part of our daily lives which is why integrating mobile learning has never been more important.
When creating modules, ensure that they perfectly fit on a phone's small screen and that they can adapt to various screen sizes. Since these modules cover a single topic or learning level, they should be designed to offer on-time support for any learner, whichever device they are using.
Add an Element of Exploration
Content that drives curiosity is worth investing time in. Moreover, it encourages people to do great things and explore new ideas. So allow your content to maintain that curiosity in your learners' minds.
You can do so by sharing some external links and other resources so that they can dig into the topic more deeply. Also, integrate a relevant case study in your course that highlights the latest development on the topic.
Be Original
If you plan to develop content for the learners in your company only, you may feel the urge to pick points from other courses and create a non-original piece. However, that is the worst mistake you can make because it won't reflect yours or your company's distinct ideas and culture.
Most designers practice content curation to save time and include tried and tested activities in their plans. These reasons are pretty solid, but at times they can reduce your learners' interest.
To avoid this, ensure that at least 60% of your course is original and bespoke, and 40% is inspired by online content that you find relevant and exciting. It is all about creating a good mix that can keep your learners engaged for a long time and clearly deliver your organisation's objectives.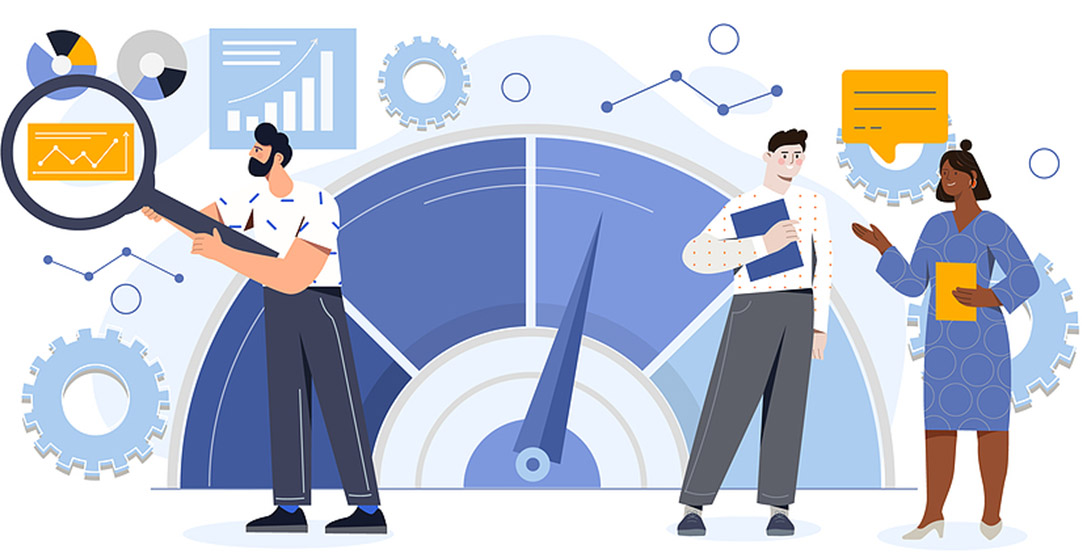 Cultivate and Promote Your Content
While creation is a crucial part of the eLearning content development process, analysis and promotion also have a role to play. As part of the development process, ensure to take some time to review the performance of your course and then make improvements where required.
This action is imperative to ensure that your content is engaging and adding value to your learners' lives. Therefore, utilise both quantitative and qualitative data and feedback to conduct a proper analysis.
Once that's done, use various digital marketing strategies and tactics to promote your course. If you want to create a standing for yourself in the eLearning industry, incorporate promotional methods such as webinars, email marketing, and promotional videos to spread the word for your content. However, if your purpose is to teach the current learners in your company only, such marketing efforts may not be necessary.
Final Takeaway
The eLearning content development process may sound overwhelming at first, but it gets easier as you explore it further. The key to making this procedure successful is simple; start with exploring your learners' preferences and then create content that can help engage them and also upgrade their skills. While doing so, ensure to focus on relevancy and quality to produce a course that can add value to your learners' lives.
Next Steps
Please contact us to discuss your bespoke elearning requirements. Our team can design and create exactly what you need. We'll ensure it's engaging and interactive!

Sean is the CEO of Skillshub. He's a published author and has been featured on CNN, BBC and ITV as a leading authority in the learning and development industry. Sean is responsible for the vision and strategy at Skillshub, helping to ensure innovation within the company.
---