Mobile learning promises to be an amazing addition to the L&D educational ecosystem.
But, it's not all good, mobile learning does have its drawbacks, and it's best to know these before you jump in the deep end.
That's why in this article, we thought it would be useful to shoot down the middle and offer a balanced view on the pros and cons of e-learning.
Advantages
Accessibility:
Being able to access learning content anywhere allows students to learn on a flexible basis, in a location that suits them, (bus, train, cafe), and at a time that suits them too.
Supports self-paced learning:
People learn at different rates, and mobile learning allows people to learn in their own way at their own individual pace.
Compare this to a classroom where learners are generally restricted to the pace set by the trainer, which often causes frustration.
Most organisations have an online learning platform with elearning content that is compatible with mobiles. You can then learn whenever you want.
Can suit multiple learning styles:
Unlike classroom learning, mobile learning can be moulded to suit different learning styles, increasing learner engagement.
For example, text, images, video, podcast, quizzes etc. can all be flexibly incorporated into the content to suit varying learning styles through your bespoke elearning solutions.
Motivation:
By using gamification methods, such as learning leader boards and other social status symbols like learning badges, mobile learning systems can actually make learning more fun and engaging.
Disadvantages
Small Screen:
At times the convenient small screen on mobile phones can be a big disadvantage, as reading documents on a small screen can lead to eye strain.
Many of us will have experienced this!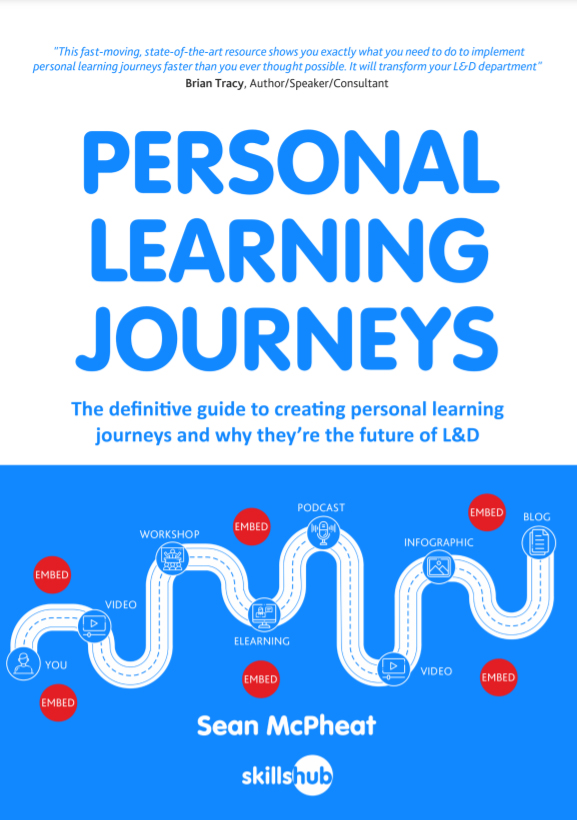 Learn How To Create Personal Learning Journeys

For FREE!
Download a free copy of our latest book
The definitive guide to creating personal learning journeys and why they're the future L&D
Download My Free Copy
Prone to Distractions:
The hyper connected smartphone user may receive, (or even expect to receive), SMS, social media or news notifications during a mobile learning session.
This reduces the learner's sense of solitude, which could lower the learner's engagement level vs a classroom experience.
Outpacing technology
This can be said of most smart-phone applications.
Mobile learning courses can drain batteries quickly and struggle in areas of poor connectivity, leading to an unintentionally fragmented learning experience that reduces engagement.
Lack of standardisation:
Device compatibility issues may arise as there is a lack of standardisation in smart-phones.
Learners may be have different: OS, versions of that OS, screen sizes, battery life and so on.
As a result some learners may not be able to load courseware while others can, meaning learning content delivery can be compromised.
Thanks again

Sean McPheat | 

CEO