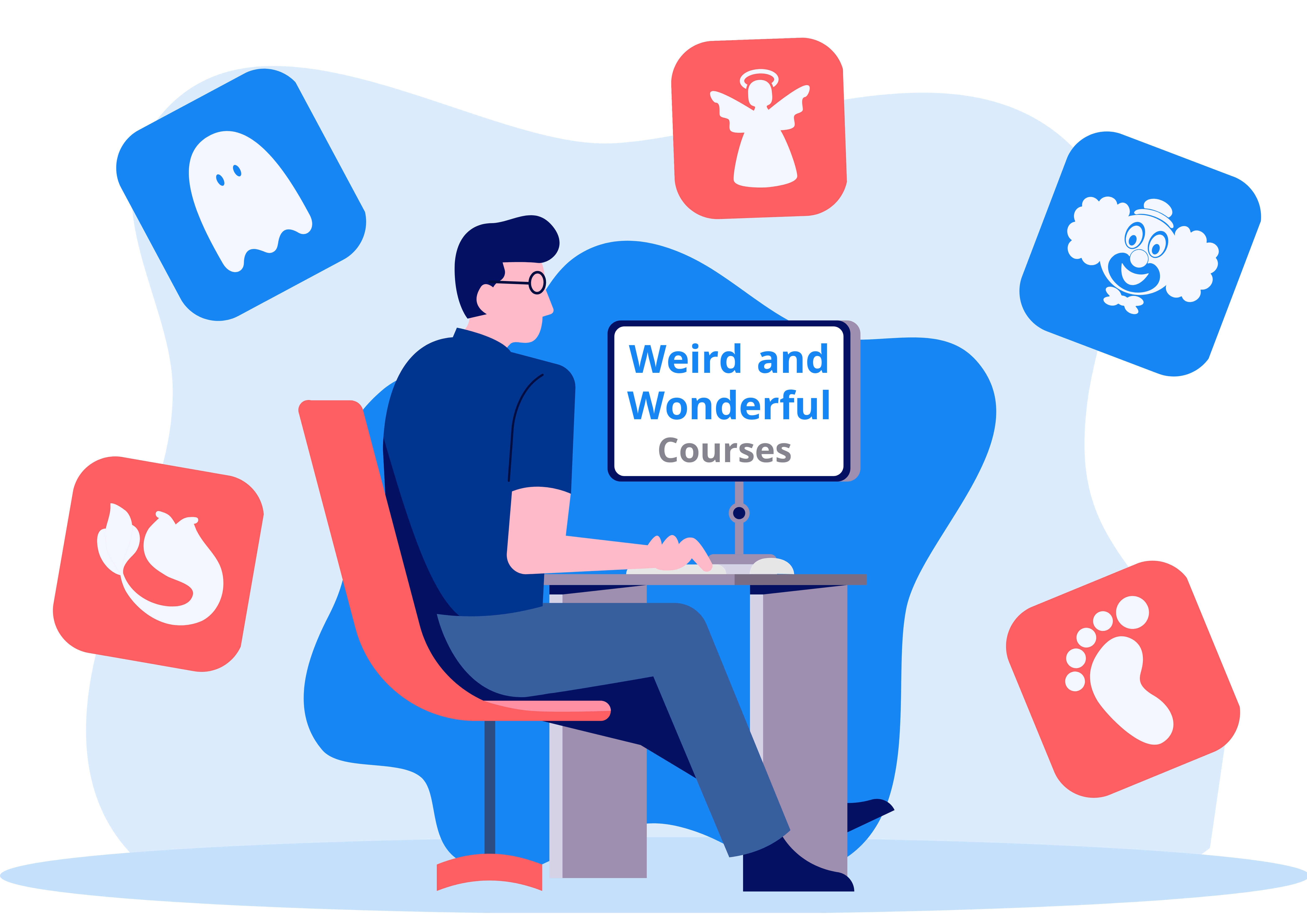 In today's internet era, we're just a click away from learning everything we want and exploring all kinds of interests, no matter how odd they may seem to others. From courses on how to become a mermaid to finding the Loch Ness Monster, there's definitely something online for everyone.
We dived into some of the most random courses available on the internet and found some of the most interesting ones to share with you. Most of them don't just provide you with new skills to impress your friends, but also with an official certificate. So, yes, you can become a certified clown or ghostbuster if that's what you want!
Take a look at our list of weird and wonderful courses: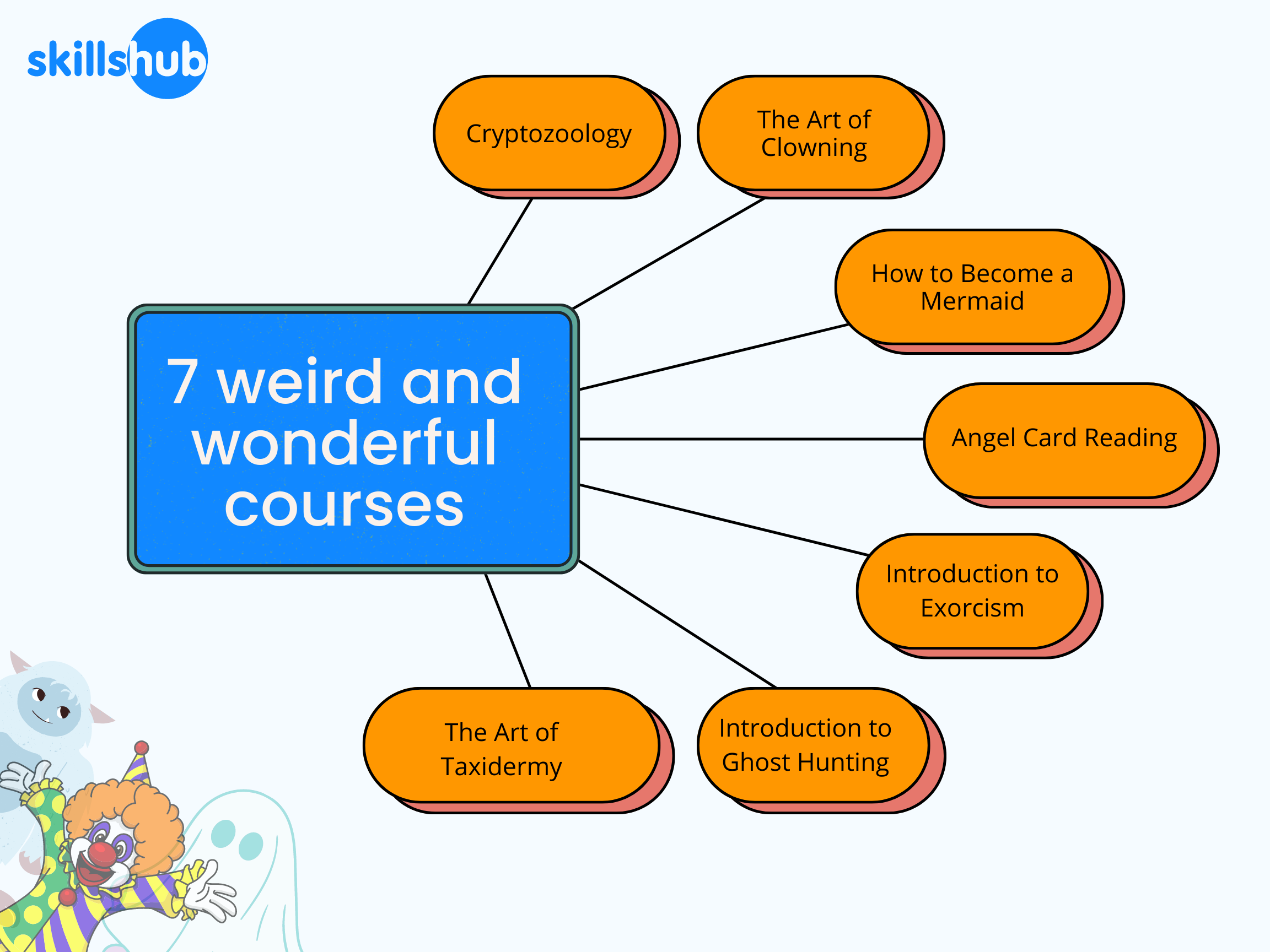 Cryptozoology
If you find yourself wondering if Bigfoot or the Loch Ness Monster do exist, you might be interested in a cryptozoology course. This course is available on multiple online platforms, where you can learn all the theories and pieces of evidence behind these mysterious creatures. Prices for this course vary between £50 and £200, which will provide you with approximately 150 hours of educational content on mythology creatures.
Job opportunity from this course: Cryptozoologist
Even if cryptozoology isn't a recognised science, there are people around the world that do study and try to find mythical creatures. According to data, you can earn around £38,900 a year doing this work.
However, if you're interested in Cryptozoology, you can also work in related scientific fields as a wildlife biologist, observer, or marine biologist and earn between £37,620 and £39,479 per year.
The Art of Clowning
Unleash the clown within yourself by picking up a clowning course. This online learning class promises to help you find your own clown personality and teach you the dos and don'ts of the job. People that tried it have said that they loved putting on a red nose and you can't really blame them, as the price is just £16.
Job opportunity from this course: Clown
If you know how to and are good at making people laugh, you can become a clown and gain around £50,916 a year. It sounds like the right amount to make people happy (or scare them to their core.)
How to Become a Mermaid
If you have ever fantasised about swimming with a mermaid tail, you can make this dream a reality with a simple online search. You'll quickly find courses and even schools that teach attendees how to become a mermaid for just £50 to £200. It's like learning how to dive, but with a stylish twist!
Job opportunity from this course: Professional Mermaid
Being a professional mermaid seems like quite a big deal. Touristy seaside locations tend to be where people with mermaid skills gather due to the job opportunities. You can choose to become a mermaid show performer and enchant the public with amazing water-based stage shows, go for the party entertainer position and host anything from children's parties to corporate events, or become a mermaid athlete and take part in the World Mermaid Championship.
The salary depends on the job, but if your business is run right, you can earn around £58,600 a year. Mermaids might not be real, but the salary certainly is!
Angel Card Reading
You can develop your ability to communicate with angels with just a simple course. With prices from £15 to £50, the courses pledge to teach you how to keep in touch with the angels via cards and receive comforting messages for yourself and to share with others. It might sound silly to some, but a course like this has thousands of positive reviews from people that completed it.
Job opportunity from this course: Angel Oracle Card Reader
Once you've discovered your own mysticism and are ready to share it with others, you can do so by becoming an Angel Oracle Card Reader. That means that you can connect to the Angels and read the cards. Who wouldn't want to speak to angels and earn around £55,000 a year?
Introduction to Exorcism
Exorcism might have been a hell of a topic a couple of decades ago, but learning about it nowadays is as easy as learning how to take care of your pets or bake bread. Exorcisms aren't something that you only see in horror films and their comedy spin-offs, you can actually study them in plenty of online courses. There is even a school that specialises in teaching the basics of this ritual and its history. Prices range from £222 to £418.
Job opportunity from this course: Exorcist
An exorcist is someone who is known for their ability to drive out evil spirits, demons, and devils from possessed people, places, and things. Even if it is terrifying, those in this role can actually earn around £41,900 per year, so maybe it's worth it!
Introduction to Ghost Hunting
Not recommended for those with a weak heart, the ghost-hunting course will provide all you need to know about how to conduct a paranormal investigation including how to use the best tools and equipment, and how to call out spirits. All you need to take part in this course is £28 and, of course, some courage.
Job opportunity from this course: Paranormal Investigator
Another spooky job is a Paranormal Investigator, also known as a Ghost Hunter. As you might have already guessed, you will investigate locations that are reported to be haunted by ghosts. If you survive, you can make around £35,140 a year.
The Art of Taxidermy
There are tons of art classes available, but if you are looking for something a little bit more unique and mysterious, you might be interested in a taxidermy course. This course teaches you how to turn a dead animal into a work of art. Although this course might not be for everybody, it is of interest to more people than just Norman Bates. Those who are interested will get a gist of the techniques and tools used in the field and create their own masterpiece. Courses start at around £180.
Job opportunity from this course: Taxidermist
A taxidermist is someone who prepares the skins of dead animals and fills them with a special material to make them look as if they are alive. The job requirements might not sound appealing to a lot of people, especially those with a weak stomach, but the pay certainly might make it slightly easier at £30,000 a year.
As shown above, many of these courses do provide job opportunities, and some are really well-paid. This proves that it's always good to follow your dreams and pursue your interests, even if they might seem crazy to some.
We have created a chart comparing the salaries of these odd job opportunities, in case you'd like to pursue any of the above courses: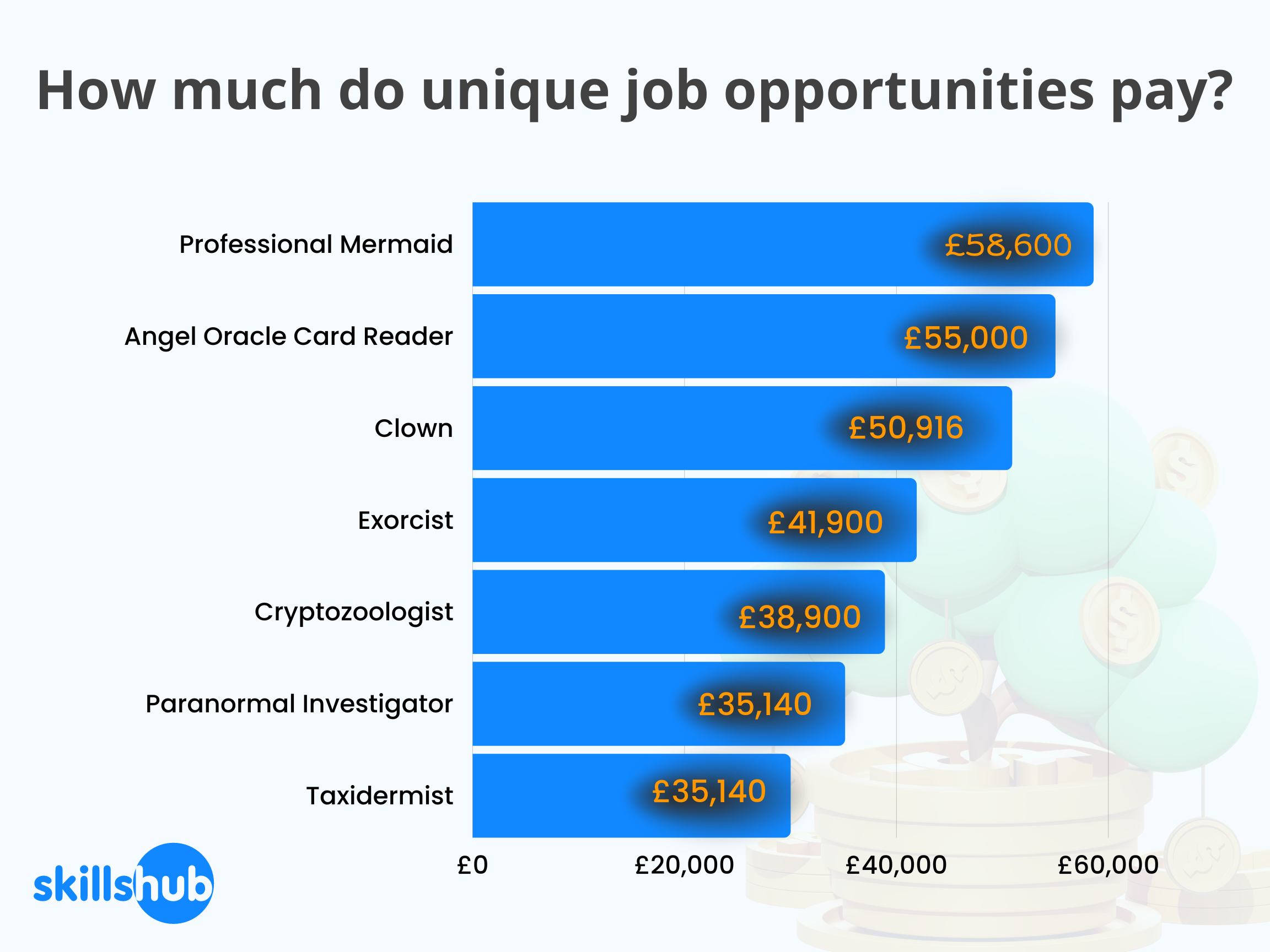 Are people actually interested in these courses?
We dug into the data to find out how many people are interested in these out-there courses. It turns out that some of them are unexpectedly popular! For instance, Taxidermy turned out to be last year's most searched-for class from our list of weirdest courses on the internet. The second most popular course was Cryptozoology, and the third was the Mermaid course.
Here is the complete data: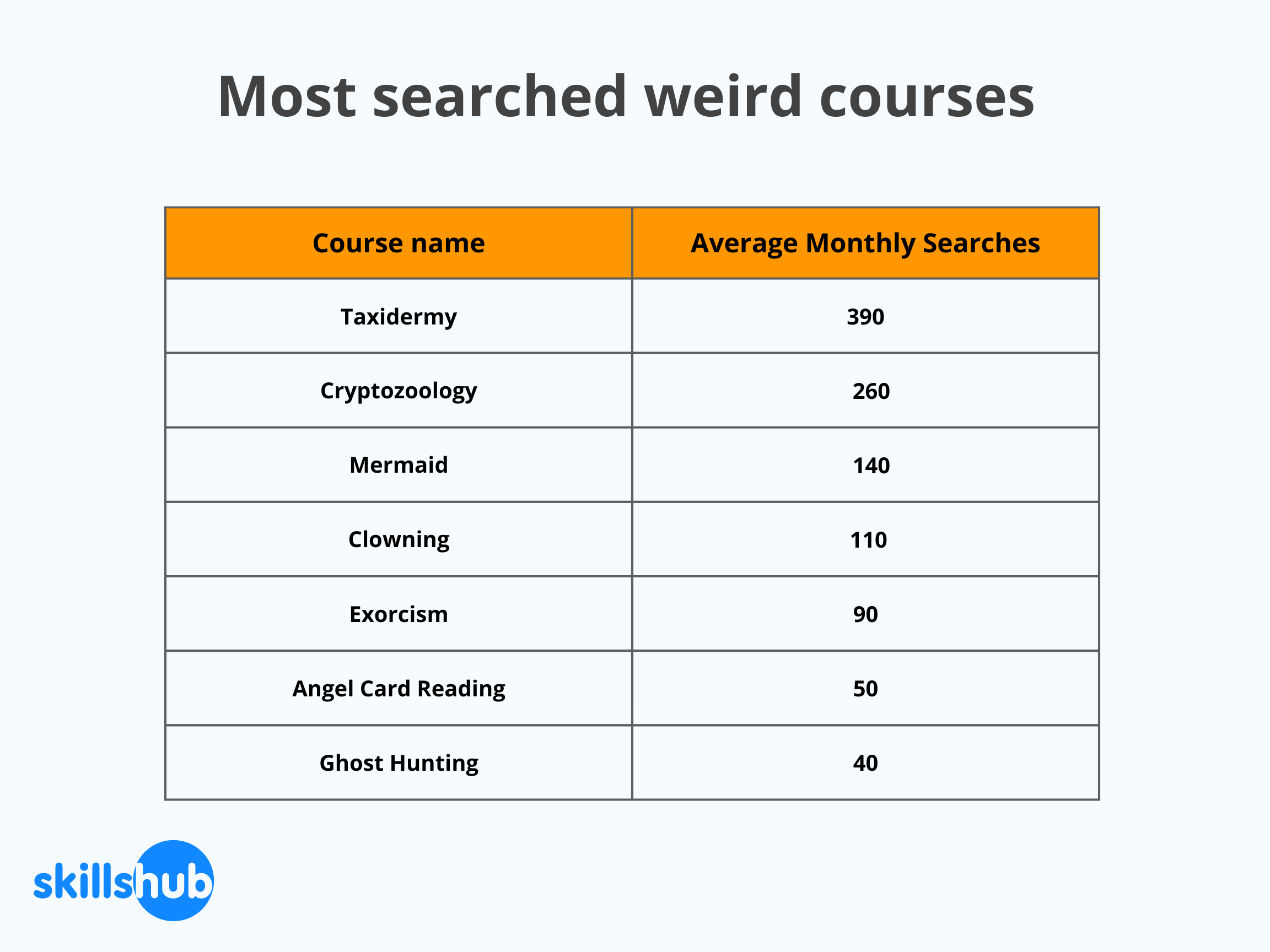 Methodology
We checked different eLearning platforms to find unusual eLearning courses and built a list of the oddest, but the most fun. We used career-related websites and tools like Comparably and PayScale to find related jobs, how much each job pays and converted the salaries into pounds.
Sources
https://www.comparably.com/
https://nationalcareers.service.gov.uk/
https://uk.indeed.com/career/salaries
https://www.salary.com/
https://www.payscale.com/en-gb/
https://www.jobmonkey.com/
https://www.padi.com/

Sean is the CEO of Skillshub. He's a published author and has been featured on CNN, BBC and ITV as a leading authority in the learning and development industry. Sean is responsible for the vision and strategy at Skillshub, helping to ensure innovation within the company.
---