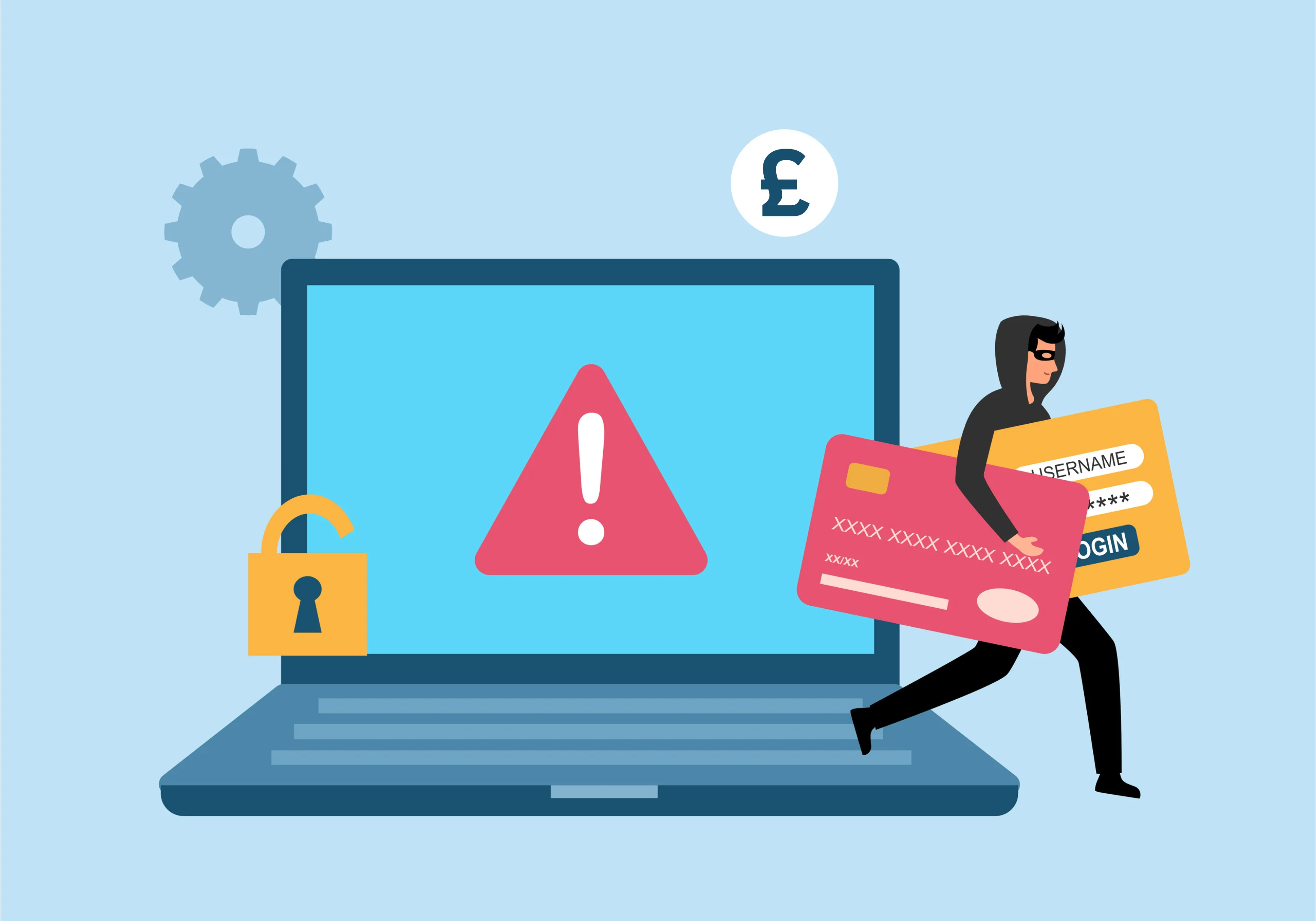 Around 40 million people within the UK were targeted by scams in 2023 so far, according to research from Citizens Advice. Unfortunately, scams are prevalent worldwide, and many people fall victim to them and lose their money to fraudsters.
In order to prevent people from falling for these scams, Skillshub looked into some tell-tale signs that a training course might not be completely legit, and shared some red flags to look out for to avoid falling for these scams.
Millennials Most Likely To Fall For Scams
Many assume that the older generation are more likely to fall for scams due to their potential lack of knowledge of social media, technology and scams in general. However, a recent survey conducted by online bank Marcus by Goldman Sachs revealed that British adults aged 34 and under are more likely to fall for financial scams.
What Are Some Of The Most Common Scams?
There are a wide range of scams out there, some of the most common ones being:
Romance scams: This type of fraud often involves a scammer seeking out single people looking for a relationship, getting to know them and developing what seems to be a genuine connection. The scammer will then take advantage of their victim and ask for money — the only thing they're actually interested in! The Tinder Swindler series on Netflix is a very famous example of this type of scam.
Tour operators and holiday scams: Many of us are desperate for a holiday, but due to the cost of living are struggling to find a good deal. It seems scammers have caught onto this and are creating fake websites — often mimicking known and trusted company sites — and selling fake flights and holiday packages. Many victims are unaware of this scam until they've already transferred the money.
Ticket scams: Similarly to the above, many scammers will take advantage of the big, sell-out acts touring and set up a fake website selling tickets that unfortunately do not exist. The person duped may not realise this was a scam until the tickets fail to get them into the event, or when the tickets never arrive after already paying.
Investment scams: This type of scam occurs when scammers manipulate people and trick them into investing their money in various stocks, real estate opportunities, digital assets, or even pension funds. This type of fraud is notoriously difficult to spot and can create long-last effects.
Email scams: There are a range of scams via email, a common one being email invoice scams. According to a Nationwide Building Society poll, almost a quarter of adults have been targeted by this type of scam. This scam involves intercepting real email invoices and altering the payment details to their own, meaning the payee's money will go to them.
What Are Some Types Of Online Training Scams?
A type of scam that may not be as common, but still manages to fool many people are fake training and educational courses. This type of scam massively increased during lockdown when more people were learning online in their additional spare time.
Online training courses can be provided in a range of formats such as webinars, one-to-ones, virtual classrooms, and more. There is a wide range of topics that can be covered online which result in different qualifications and certifications, if they're legitimate.
Fake courses
A scam course can operate in a similar way to the holiday and ticket scams; the scammer will create a fake website offering courses and ahead of the 'course date', close the site down and disappear with the customer's money – this can catch multiple people out at a time. This type of scam can also be referred to as a boiler room scam when a group of fraudsters set up a fake company and once they've got the money from victims, disappear.
Misleading courses
There are some courses out there that are real and exist, however, they don't quite deliver what was promised. Some online courses will provide a detailed course overview and will even promise potential jobs that will come out of the programme. However, the reality is that these courses are often short and don't deliver on the promised content and outcome. Some courses can even offer certain qualifications but are unable to provide verified certification.
Celebrity and influencer courses
Although not all of these courses are a scam and there are some successful ones out there, some of the influencer or celebrity-sold courses can be misleading. This type of course is more common in certain industries — 'fake guru' is quite common in the investing and stock industry. This scam involves a self-proclaimed expert within the subject area creates and sells a seminar, webinar, or course, promising to share their secrets to success. Whilst some can be helpful, others are just bragging and self-marketing opportunities and provide no real value or teach anything of use.
These influencers also sometimes go the extra mile to gain customers, with some hiring out fancy cars, helicopters and mansions, claiming they own all of these luxury items due to being an expert in the area, promising to teach attendees the skills, so they can have the same lifestyle.
Hidden fee courses
Similarly to misleading courses, some courses may not provide exactly what is promised, be much shorter, and not provide enough value. However, they may offer a secondary course that promises to provide further learning, skills, and opportunities, but, for an additional cost. Despite already paying for one course and being disappointed, customers may still feel enticed into purchasing the secondary course in hopes it will make them feel like they have benefitted from this experience and not wasted their money.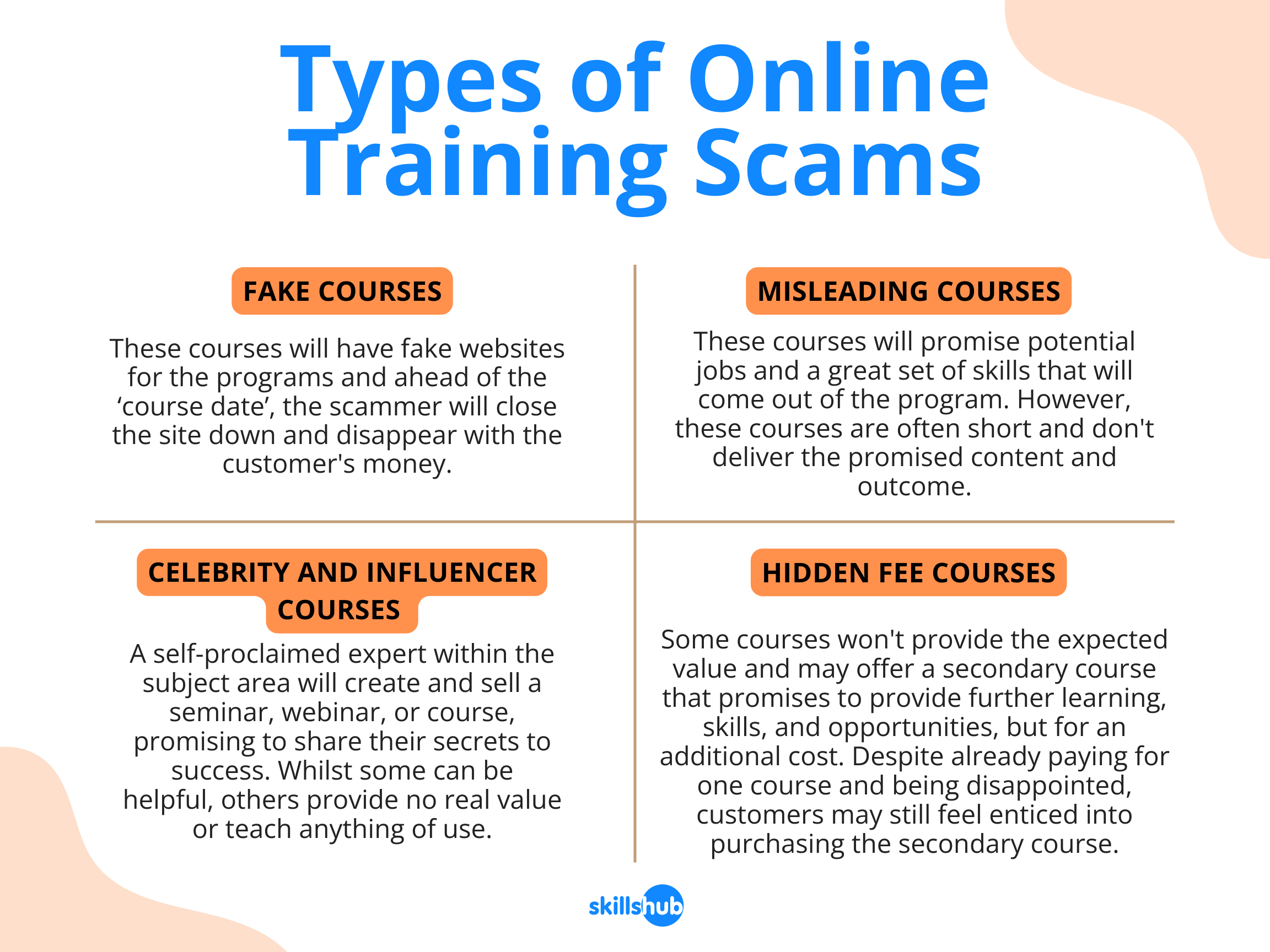 How To Spot A Scam Course
It can often be difficult to spot these scam courses, but below are some of our red flags to look out for and tips for avoiding a potential scam.
Be aware of unrealistic promises
A key sign of a scam course is overpromising what you can achieve from the course, with some guaranteeing immediate results, a huge increase in skills with little to no effort and time taken, and even a high-paying job! Legitimate course providers will never guarantee these things, as it can be impossible to guarantee the results due to a wider range of reasons that are out of everyone's hands. If something seems too good to be true, be sceptical.
Don't fall for pressure tactics
Some scam courses will create a feeling of urgency and apply high-pressure to bag customers and take their money without giving them the time to research the company's legitimacy. Some key tactics include limited-time offers, claims of limited availability, and countdown timers. Of course, some authentic companies will have genuine offers and a certain number of spaces, but there shouldn't be a feeling of pressure.
Poor quality website
A tell-tale sign that a company is not legitimate is the quality of its website and marketing materials. Often, these websites are set up quickly and cheaply as scammers will often take them down once they have taken the victim's money, so won't invest too much time or money into them. Legitimate course providers tend to invest in a polished, informative, trustworthy online presence. To spot a scam, look out for bad grammar and spelling, low-quality images, and a general unprofessional appearance.
Lack of detailed course content
A legitimate course provider will ensure their description has a ton of information including the course curriculum, skills that will be gained, and the course's learning objectives. If a course doesn't have this key information, it may be a sign that it's not real and the scammers are unsure what to put.
Unverifiable credential or accreditation
Genuine course providers tend to have recognised credentials, qualifications, or accreditation from reputable educational institutions and organisations. If there is a lack of verifiable accreditation or credentials displayed, this could be a sign that the provider and courses are not genuine.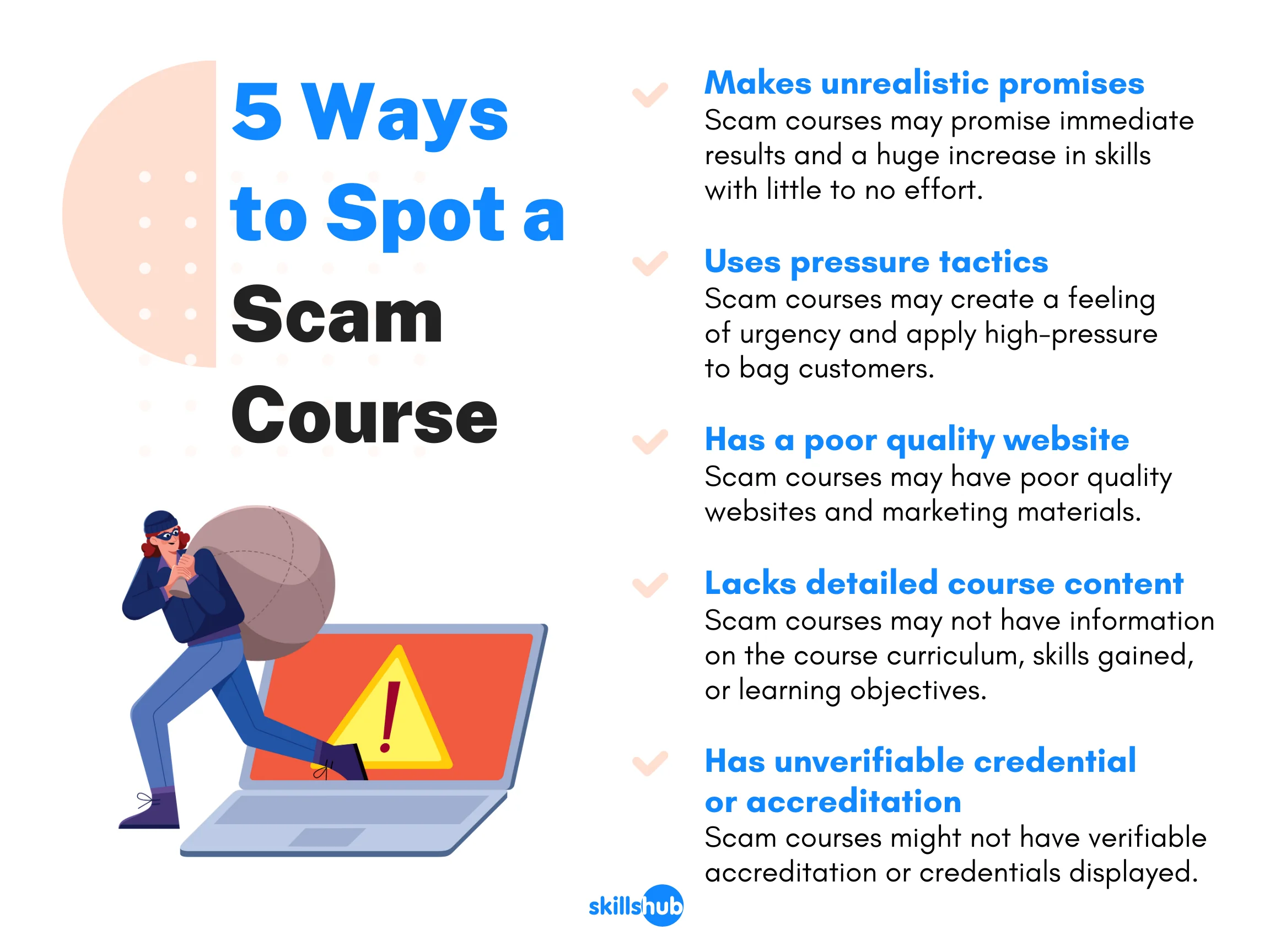 How To Avoid Falling Victim To Scam Courses
As well as looking out for the above red flags, there are further ways to avoid falling victim to scam courses.
Research extensively
Anything you're investing your money into should be researched thoroughly, regardless of scams or not. Before enrolling on a course, be sure to check the companies/courses credentials, look thoroughly at their website and social media, and check customer reviews and testimonials. If there aren't any reviews, or they are all negative, avoid the course
Seek Recommendations
Just as you would when looking for a good restaurant, opt for recommendations to find the best option for a course. Recommendations can provide valuable insights and can help spot reputable providers and courses to avoid being scammed.
One way to seek recommendations is through people you know who have previous experiences with a course provider. Alternatively, look for recommendations online via social media.
Compare prices
When looking into course providers, be sure to compare the pricing. If a course is significantly cheaper without a valid reason than others, be cautious, as it could be a scam tactic to gain more customers. As tempting as it can be to go for the cheaper option, it may only be cheap as it doesn't provide any real value, and could be a scam. Another course may be more expensive, but it will more than likely also provide much more value. However, keep an eye out for courses that are suspiciously more expensive than other courses without offering more value.
Read the terms and conditions
Before going forward with any course, be sure to thoroughly check the terms and conditions. Carefully look out for any factors that could affect your decision, such as any hidden fees, cancellation terms, or refund policies — check that everything is fair and transparent. Although, be aware that scam course providers can easily copy terms and conditions.
Check Instructor Qualifications
Legitimate courses are usually led by qualified professionals who have relevant knowledge and experience. To get peace of mind, look into the instructor's or facilitator's qualifications and expertise to ensure a qualified person will be teaching the course and providing value. Also, ensure they're officially associated with the course, and not being cited with the course falsely.
It's much easier to fall for scams than some people might expect, as the people who run these online scam courses often know exactly what they're doing and can make a fraudulent website extremely convincing. Be sure to look out for the above red flags, and follow these steps to try and avoid falling for a scam course and losing your hard-earned money, or being roped into a low-quality course and gaining no new skills.

Sean is the CEO of Skillshub. He's a published author and has been featured on CNN, BBC and ITV as a leading authority in the learning and development industry. Sean is responsible for the vision and strategy at Skillshub, helping to ensure innovation within the company.
---