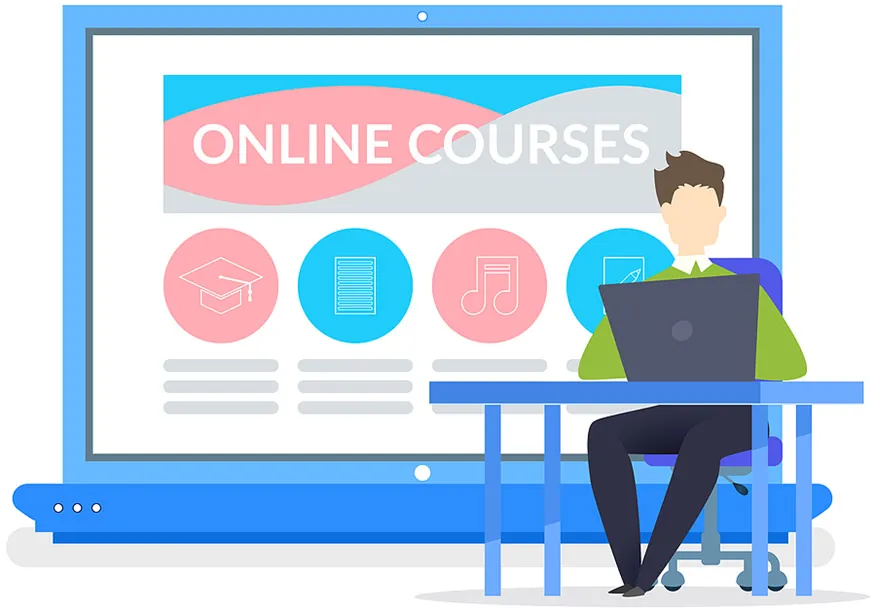 When writing our New Year's resolutions list, it's essential to look back and appreciate last year's achievements. For people across the UK, it seems that online education was a priority in 2022. Around 18,100 searches for 'online courses' were registered last year, which means an average of 1,508 searches a month.
We dug into the data to find out which online courses were most popular in the UK last year. While examining the search figures, interesting facts emerged – let's break down the data.
30 Most Popular Online Courses in 2022
It might seem surprising to some, but in 2022, art was the area that the UK public wanted to develop more. Data from last year has shown that across 12 months, 'online art course' has been searched 110,000 times.
The second most popular was 'online science course'. However, science was half as popular as art, with just 49,500 yearly searches.
The third most searched course was the online business course, with around 2,400 average yearly searches across the UK. The list continues with a variety of courses, such as marketing, English, management, and HR.
Top 3 most searched online courses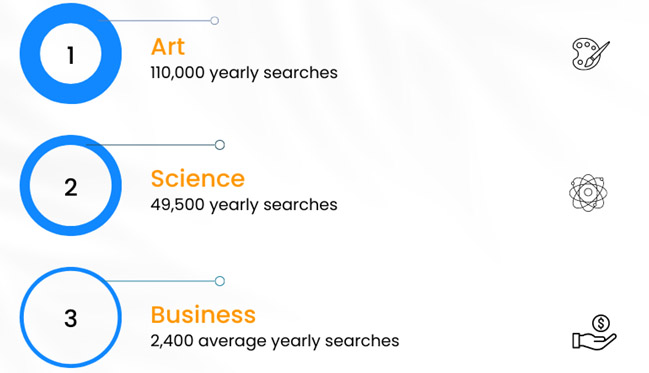 Among the top 30 most popular courses, there are a couple of fascinating ones that tap into new domains that you might not consider looking for online, such as animal care courses, construction courses, archaeology courses and parenting courses. Whether for personal development or for work purposes, people seemed keen to learn more and improve their skills in a variety of areas.
Here is the complete list of the most popular online courses of 2022 – hopefully it provides some inspiration for the new year!
Most searched

online courses

of 2022
Course name
Average UK searches per year
What online art courses are Brits looking for?
As mentioned above, art was the main interest for Brits in 2022 when looking for online courses, but which art courses were of interest?
Painting
The data has revealed that the most popular art course was 'online painting course' with an average of 135,000 searches a year. With just a few clicks, people across the UK were able to get comfortable with basic or advanced painting techniques from the cosiness of their homes. Whether we're talking about acrylic, oil painting, or maybe just how to use watercolours, online painting courses served as the main interest for UK people.
Sketching
Sketching courses were also extremely popular in 2022, with an average of 90,500 searches a year. It isn't a surprise that people wanted to improve their sketching skills, since this can help illustrate ideas, express feelings and communicate thoughts. Let's be honest, drawing is a communication channel that has been used for hundreds of years and it's a great skill to have for a lot of modern jobs.
Photography
In a digital world, there is no surprise that people want to improve their photography skills. We're all sharing images of our lives online, so last year an average of 2,400 people decided to do it professionally and looked into an online photography course. Learning to take good photos comes with a handful of other skills, such as the ability to notice small details around yourself and enjoy their beauty.
Procreate Drawing
Another popular 2022 pick was Procreate drawing, which means learning to draw on a digital platform that can be purchased and downloaded. The platform is suited for people of all levels, from beginners to experienced artists. Last year, around 2,400 searches were registered for Procreate drawing online courses.
Interior Design
Whether they were looking for a career change or just for the chance to design their own space with limited resources, a great number of people chose to try an interior design online course last year. Data uncovered that an average of 1,900 searches were conducted in 2022 for interior design courses.
Here is the full overview of popular online art courses:
10 most popular online art courses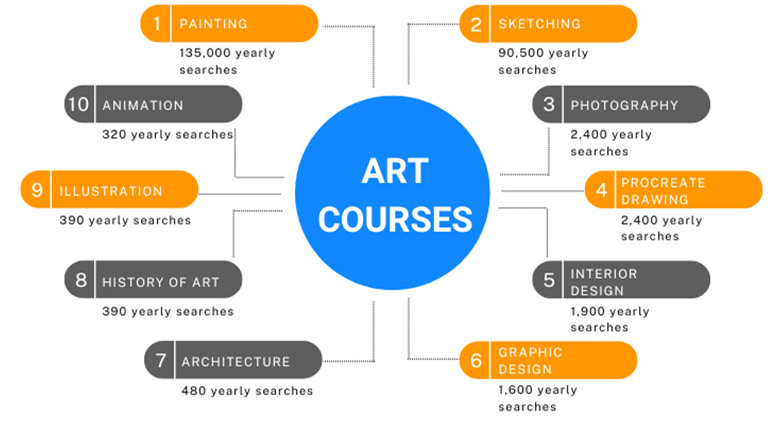 Methodology
We gathered Google search data from the past year to find the average yearly search volume for each of these eLearning courses.

Sean is the CEO of Skillshub. He's a published author and has been featured on CNN, BBC and ITV as a leading authority in the learning and development industry. Sean is responsible for the vision and strategy at Skillshub, helping to ensure innovation within the company.
---